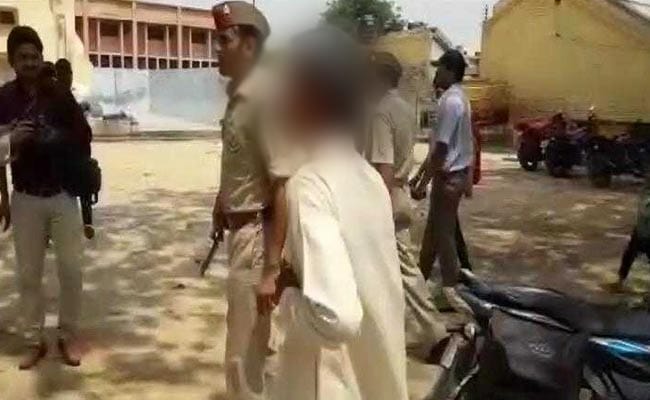 Badaun:
A Dalit farmer who was allegedly thrashed and
forced to drink urine
by some upper caste men for refusing to harvest their crop in Uttar Pradesh's Badaun, has gone missing, the police said on Wednesday. The farmer had also alleged the men had pulled out his moustache.
The family of the missing men has been provided security cover, said the administration of the western UP district 290 kilometres from state capital Lucknow.
"The security of the family has been increased. The four accused were produced in the court and were sent to jail," senior police officer Jitendra Kumar Srivastav said.
Mr Valmiki is missing and his family members say he may have gone to a relative's place, the officer said. "We are trying to find him," Mr Srivastav said. The circle officer at Dataganj has taken over the investigation and it will be completed soon, he said.
Four people have been arrested and the station house officer Apart from the arrest of the four accused, a senior police officer Rajesh Kashyap of Hazratpur police station has been suspended.
Mr Valmiki had complained that on April 24, while he was working in his field in Azampur Bisaulia village, the four accused came to him and asked him to harvest their crop.
When he expressed his inability to do so, the four accused -- Vijay Singh, Pinku Singh, Vikram Singh and Sompal -- allegedly beat him up. He complained to the police that the four men forced him to drink urine from a shoe.
The accused also allegedly tied him to a tree, he said in the police complaint. A first information report (FIR) was filed on April 29.
Attacks on Dalits have not stopped in Yogi Adityanath's Uttar Pradesh despite the BJP leadership asking its party members to reach out to the community.
After nationwide uproar over Unnao gang-rape case involving a BJP legislator,
another incident was reported
from the same district earlier this week. A Dalit woman had filed a complaint that her minor daughter was allegedly gang-raped two years ago and rapists also recorded the incident in a video.
As part of the BJP's image-building exercise, some of its leaders have been going to Dalit homes to share meals with them in a move that has come close to becoming a public relations gaffe, after one of its leaders, UP minister Suresh Rana, was seen eating a lavish dinner at a Dalit home.
With inputs from PTI