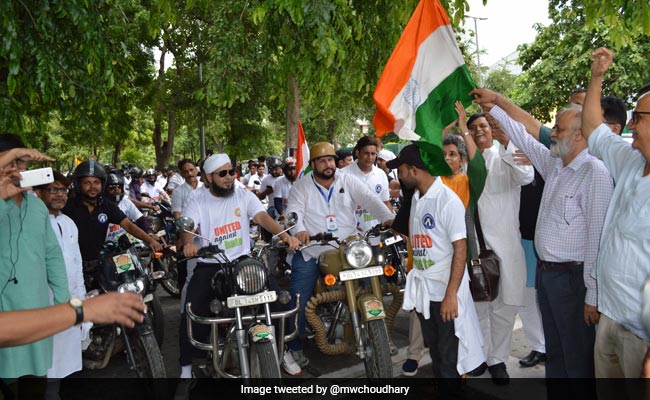 New Delhi:
Against the backdrop of a string of lynching incidents, a group of about 100 bikers today left for Mewat region from Delhi to spread the message of communal harmony and raise voice against hatred-driven violence.
Organised under the banner of '#UnitedAgainstHate', the bike rally was flagged off from Mandi House roundabout, in presence of a few politicians, activists and scholars, who said, "silence over violence" would only encourage the perpetrators.
Senior JD(U) leader Ali Anwar Ansari, RJD national spokesperson Manoj Jha, Swaraj Abhiyan chief Yogendra Yadav, activists Harsh Mander and Swami Agnivesh, JNU professor Nivedita Menon were among those present on the occasion.
A member of the organising team said, "We are not part of any political party. All those who believe in harmony and justice were invited to join the campaign."
"The rally will culminate at Nuh in Mewat region where the main programme would be held. On the way, the bikers would stop by to distribute pamphlets, activists would stage street plays to raise awareness about human rights and how to fight for it," he said.
Asked why Mewat was chosen, the organiser said many victims of lynching incidents hailed from the region.
Similar events are taking place in 30 other cities, including Pune and Hyderabad, today, he said.
Jha said recent cases of mob lynching should galvanise us into a "force to combat such forces" which seek to divide the nation for political benefits.
"We must accept that we are currently living in a state of fear. It is Junaid today, tomorrow it could be Jaspal or Jasmine. We need to start working together for the safety of our fellow Indians," he said.
Addressing the youth before the flagging off the rally, Swami Agnivesh also urged people to rise above political lines and warned that "lynching incidents were used for polarising the people".
"I saw it during the Muzaffarnagar riots how violence was used to polarise people and communal sentiments were whipped up for political gains. People of all faiths sacrificed their lives for our freedom and now minorities are being harassed or killed.
"We must stand together in this hour and this rally after the '#NotInMyName' protest is a good step to building peace and harmony, more so when the youth are leading this," he said.
Yogendra Yadav said people must not allow the secular fabric of the country to be to destroyed for the political benefit of the few.
"Someone is minority religion-wise or caste-wise. A Bihari migrant is a minority in Mumbai, a north Indian becomes a minority in Bengaluru. So, we must think of equal rights for all. These lynchings or violent acts are being meted to people to silence them," he said.
"To be silent and take up arms in retaliation is to side with the perpetrators. We must speak out and raise our voices against any such acts in a peaceful manner as this rally would do," Mr Yadav said.
Lamenting the killing of 17-year-old Junaid near Delhi in June, Mr Mander said, "We allowed Junaid to die. We as a society allowed it. The biggest enemy is not outside but inside us, among our own people. We need to change our attitude and begin to react against wrongdoings instead of being mere spectators."
Junaid was stabbed to death and his brothers were attacked by a mob in a moving train and thrown off it, a day ahead of Eid.
Pehlu Khan (55) was brutally beaten up after being intercepted by self-styled 'gau rakshaks' in Alwar on April 1 while he and his two sons, Irshad and Arif, were travelling in a pick-up car, carrying cattle from Jaipur.
A man was recently lynched by cow vigilantes in Jharkhand on the suspicion of carrying beef in his vehicle.