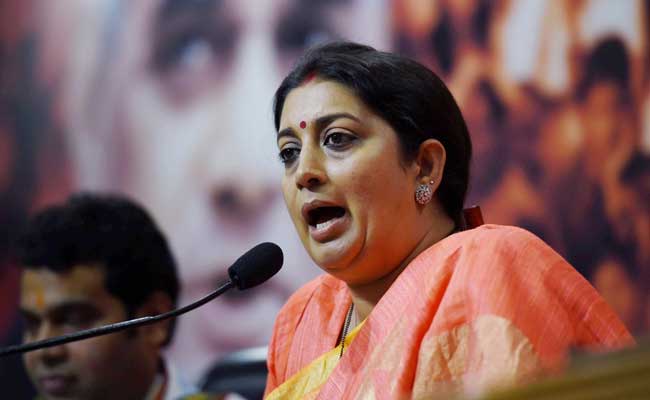 New Delhi:
Union minister Smriti Irani's public argument with a journalist kept Twitter agog today. The exchange that started over a news report meandered to "freedom of speech" and even newspaper preferences as more and more joined the debate.
The report in the Economic Times newspaper alleged that the minister had recommended over 5,000 admissions in the central government-run Kendriya Vidyalaya schools in the current academic year - more than four times that of her predecessors.
In an angry post, the minister responded:
@anubhutivishnoi I recognise ur source based agenda n have made public my contempt for it.

- Smriti Z Irani (@smritiirani) November 23, 2015
Then she added:
@anubhutivishn All admissions r recorded as per requests frm MPs across parties+Bpl families. Ur source based lie as usual ignores facts.

- Smriti Z Irani (@smritiirani) November 23, 2015
The reporter, Anubhuti Vishnoi, responded, saying that with utmost respect to the minister, she had been requesting for the ministry's comments since Friday, but none had come.
Ms Irani shot back:
@anubhutivishnoi 2 line humari aur baaki ka version aapka. N by d way respect aap na bhi kare to koi farak nai padta.

- Smriti Z Irani (@smritiirani) November 23, 2015
As the reporter pointed out:
@smritiirani Ma'am we would publish all that the ministry would say regardless of no of lines. We didn't get anything after several requests

- Anubhuti Vishnoi (@anubhutivishnoi) November 23, 2015
The minister further tweeted:
@anubhutivishnoi it is bcoz of journalists like u dat a reader like me has stopped subscribing to ET.

- Smriti Z Irani (@smritiirani) November 23, 2015
Several more tweets joined the fiery debate. In response to a comment from another journalist, the minister shot back:
@RajatAroraET Sir it seems I have lost my right n freedom to express myself. Should my freedom of speech be subject to ur prior approval?

- Smriti Z Irani (@smritiirani) November 23, 2015
A couple of posts from the onlookers said:
.@smritiirani as HRD minister, your most important job should be to tweet full words. Our students look up to you(ish) @anubhutivishnoi

- Prashant Chari (@prashant4e) November 23, 2015
This is how you should do everything in the government. Give coal blocks, jobs and everything else recommendation too. @smritiirani@Joydas

- Galavant (@RageMonk) November 23, 2015