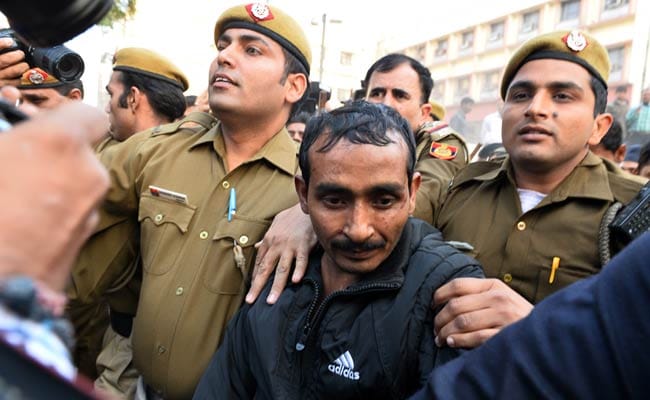 New Delhi:
The Delhi High Court today dismissed the bail plea of Uber cab driver Shiv Kumar Yadav who was sentenced to jail for remainder of his life for raping a 25-year-old woman executive in his taxi in 2014.
A bench of Justices Pradeep Nandrajog and Mukta Gupta, however, admitted Mr Yadav's appeal challenging his conviction and sentence awarded by the trial court.
The trial court had on November 3 last year awarded the sentence to 33-year-old Shiv Kumar Yadav observing that his acts were "against the society" and should be dealt with an "iron hand".
During the hearing, the counsel appearing for Mr Yadav told the bench that the sentence awarded to his client should be suspended and he should be granted bail during the pendency of appeal.
His lawyer claimed there were improvements in the woman's testimonies which was recorded by the police and the one recorded before a magistrate.
Besides the jail term, the trial court had also imposed a fine of Rs 21,000 on Mr Yadav who was convicted for the offences under sections 376 (2) (m) (while committing rape causes grievous bodily harm or disfigures or endangers life of a woman), 366 (abducting with an intent to compel her for marriage), 506 (criminal intimidation) and 323 (causing hurt) of IPC.
The incident had taken place on the night of December 5, 2014 when the victim, a finance executive working in Gurugram, was heading back to her house at Inderlok in Central Delhi.
Mr Yadav was arrested on December 7, 2014 from Mathura and was in judicial custody since then.
The woman had told the trial court that on the day of the incident, after finishing her office work she had gone to Gurgaon for a party with friends and had booked an Uber cab for returning to her house in Inderlok in Delhi.
She boarded the cab, which was being driven by Mr Yadav, from Vasant Vihar area and fell asleep in the car, she had told the trial court, adding that when she woke up she found Mr Yadav was also sitting on the back seat and when she tried to raise an alarm, he slapped her repeatedly and threatened to insert a rod while reminding her of December 16, 2012 Nirbhaya gangrape case.
The woman had said that the car was stopped at a secluded place and Mr Yadav raped her and dropped her to her house.