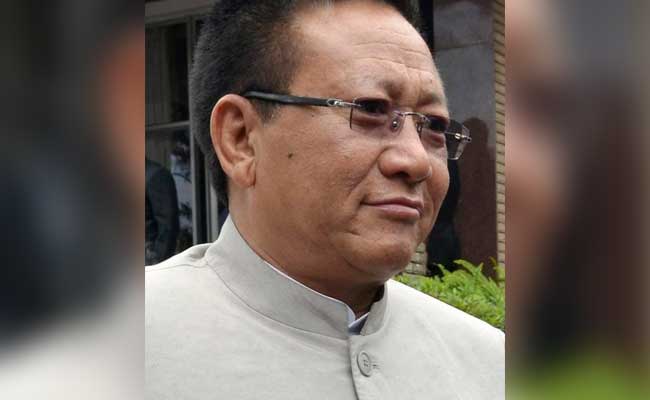 Kohima:
On a day of fast-moving political developments, TR Zeliang was today sworn in as the new chief minister of Nagaland replacing Shurhozelie Liezietsu, who was sacked by Governor P B Acharya.
But within hours, the Naga People's Front (NPF) expelled TR Zeliang for six years for "anti-party activities", indicating the political turmoil was far from over.
"He was adamant and has already planned to dismantle the NPF party," NPF working presidents Huska Yepthomi and Apong Pongener said.
TR Zeliang, however, was unfazed saying he would continue to remain the NPF leader in the House.
"The expulsion from the party does not affect the membership inside the House," he said.
TR Zeliang was appointed shortly after embattled Mr Liezietsu and his supporters failed to turn up in the assembly to face the floor test following which the house was adjourned sine die.
TR Zeliang was administered oath of office and secrecy by the governor at a function at Durbar Hall in Raj Bhavan in the presence of Speaker Imtiwapang Aier, 42 NPF MLAs and state BJP president Visasolie Lhoungu.
After being sworn in to head the NPF-led Democratic Alliance of Nagaland (DAN) government for the second time, Mr Zeliang told newsmen he would prove his majority in the house on July 21. The governor has directed him to go for the floor test by July 22.
He said he would induct his council of ministers after proving his majority in the assembly. Parliamentary secretaries would also be appointed after July 21, he added.
Mr Zeliang had spearheaded the rebellion against Mr Liezietsu on July 8 and staked claim to form new the Naga People's Front government with the support of majority MLAs.
The governor had asked Mr Liezietsu to prove his majority in the House by July 15 but the latter had filed a writ petition in the Gauhati High Court, which was dismissed yesterday.
Subsequently, the governor had summoned the special session of the house today.
On reconciliation within the party, he said that once the formation of the government is complete, the process for reconciliation at the party level will start.
"We are hopeful of providing a stable government with the support of the majority of the members of the house to complete the remaining term of the government", he said.
On the possibility of resumption of public protests with his taking over as the chief minister, Mr Zeliang said that he would discuss the matter of women reservation in urban local bodies with the tribal 'hohos' (apex bodies) and other organisations.
"We will do what is best for the people and not go for confrontation with them", he said.
Mr Zeliang was compelled to step down as chief minister in February in the face of massive protest against his government for conducting elections to urban local bodies with 33 per cent women reservation.