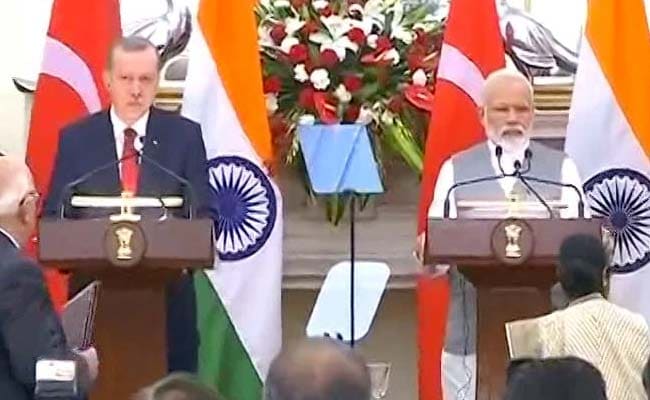 New Delhi:
India and Turkey termed the constantly evolving threat of terrorism "a shared worry", saying no reason or rationale can validate terrorism. The two countries pitched for strong action against those who provide shelter and support to such forces.
Prime Minister Narendra Modi and Turkish President Recep Tayyip Erdogan held bilateral talks in New Delhi during Mr Erdogan's two-day visit to India.
"I held an extensive conversion with the Turkish President on this subject. We agreed that no intent or goal or reason or rationale can validate terrorism," PM Modi said at a joint press conference.
PM Modi also pitched for the need for the two countries to work as one to disrupt terrorist networks and their financing and end to cross-border movement of terrorists.
Mr Erdogan said, "His country will always be with India in its battle against terrorism... And terrorists will be drowned in the blood they shed."
Ahead of his visit to India, Mr Erdogan, in a television interview, suggested a "
multi-lateral dialogue" on Kashmir
, offering to mediate between the India and Pakistan.
"We live in times where our societies face new threats and challenges every day. The context and contours of some of the exiting and emerging security challenges globally are our common concern," PM Modi said at the briefing.
Recep Tayyip Erdogan also attended a business event with PM Modi in New Delhi. He arrived in India yesterday.
(With inputs from PTI)