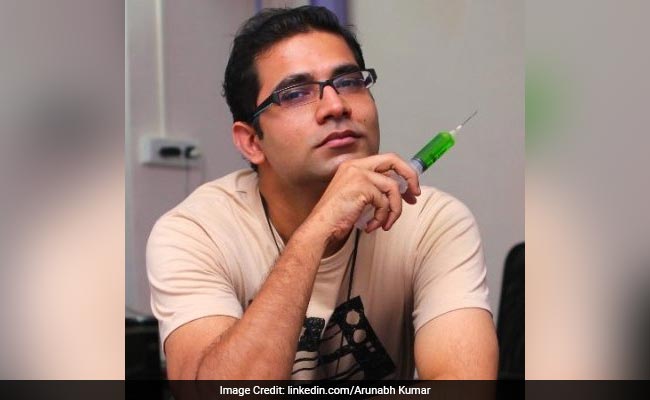 New Delhi: At least 5 women have accused The Viral Fever founder Arunabh Kumar of sexual harassment; some say the 34-year-old molested them. However, no police complaint has been filed so far against the IIT graduate, who founded The Viral Fever or TVF in 2011; the company runs a YouTube Channel, produces popular web series Permanent Roommates, Pitchers and also owns the women-centric YouTube channel Girliyapa. TVF has emphatically denied the allegations against its CEO, describing them as 'false, baseless and unverified.' Here is your 10-point guide to this story:
Here is your 10-point cheatsheet to this story:
The scandal erupted on Sunday, when a woman blogging anonymously said that she joined TVF in 2014, and was abused within weeks by its founder. She said the harassment continued. "I was getting where he was leading the discussion to. I avoided an interaction. I said 'Arunabh, aap bade bhai hain. Meri tabiyat thodi theek nahi hai. Kya karna hai bataiye. Hum karke ghar jaayenge (Arunabh, you are like an elder brother. I am not feeling well. Tell me the work. I will finish it and leave).' He suddenly holds my hand. Says 'Madam, thoda role play karein (Madam, do some role play)'. I was stunned", she wrote in the blog.
The woman in her mid-20s claimed that she threatened to file a police complaint against the TVF boss, but that didn't scare him. According to her blog, her bosses told her to "walk out" when she informed them about the harassment. Some laughed it off, she alleged. Her identity remains unrevealed; she quit the startup last year, according to her blog.
"We will leave no stone unturned to find the author of the article and bring them to severe justice for making such false allegations," said TVF.
In an exclusive interview to Mumbai Mirror, Mr Kumar, who is based in Mumbai, said "I unconditionally and unequivocally deny all these allegations. Social media has already declared me an offender, but I am ready to address all the allegations against me. I am open to receiving a police complaint so that I can respond legally as well."
The company has nearly 200 employees. Soon after the blog went viral on social media, four more women came forward with similar allegations against Mr Kumar on social media. An ex-employee (who chose not to conceal her identity) replied to the original blog and claimed she faced a similar experience at the firm and quit "under very bad circumstances".
Director Reema Sengupta, in a Facebook post, accused Mr Kumar of touching her inappropriately during a shoot in 2016. Arunabh Kumar told Mumbai Mirror he worked with Reema Sengupta but denied any inappropriate behaviour.
A Twitter account, through which the first post by the ex-employee went viral, has now received over 50 direct messages from women sharing complaints against Mr Kumar, reports mid-day. The person handling the account has said the information is being verified.
Several of Mr Kumar's colleagues at The Viral Fever have backed him. Actor and co-worker Naveen Kasturia, who is named in the original blog, denied allegations that he ignored the woman's complaints against Mr Kumar.
Nidhi Bisht, a writer-director at TVF, said the company, in keeping with the law, has a committee to handle sexual harassment complaints. "TVF has zero tolerance towards workplace harassment and an investigation will be conducted and appropriate actions will be taken," she said, adding, TVF is "one of the best places for women to work".
Joint Commissioner of Mumbai Police (Law and Order) Deven Bharti said, "We appeal that such women should lodge a complaint and strong action will be taken."