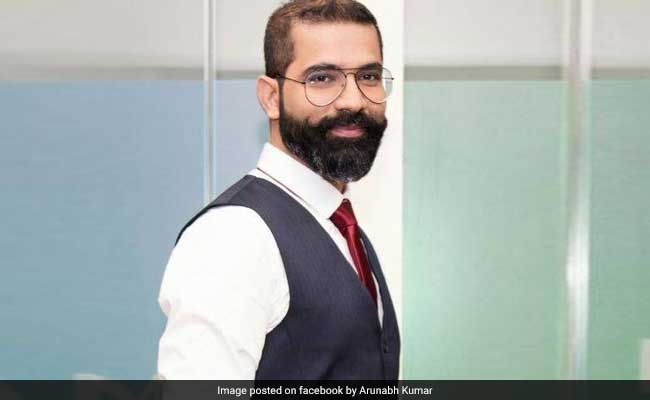 Highlights
Arunabh Kumar has said that he is 'open to a police complaint'
A woman accused Mr Kumar of molestation, 4 more backed her claim
Mr Kumar's colleagues at TVF have been defending the CEO online
New Delhi:
Arunabh Kumar, chief of online content company The Viral Fever, has defended himself against charges of sexual harassment, telling Mumbai Mirror that he's 'open to a police complaint.' After an anonymous blog went viral on social media
alleging molestation
by Mr Kumar, more women are now publicly speaking out against him. On Sunday, a woman claiming to be a former employee at The Viral Fever shared an article on Medium. In her post, she alleged Arunabh Kumar molested her several times during her two years at the company. In the last 48 hours, four more women have come forward backing her claim as they narrated their own experiences with Mr Kumar.
"Out of now where he started telling me he just came back from some place in Ratnagiri, and he bought mangoes. He asked me if I liked mangoes, while his mouth spoke those words, his hands slided on my back, from neck to waist. I'm not someone who gets scared easily, I wasn't scared, I just knew his intentions. I moved away from him, stared and said a NO and walked off", wrote Rafiya Khan on Facebook.
Another woman, who reportedly studied with Arunabh Kumar at IIT, narrated a similar incident. "So, I messaged Arunabh on Facebook & we met for coffee, said Hi / Hello, etc, and I wanted to leave by 8-9pm. Arunabh asks me: "Would you go to my place, and dance for me"? I was like WHAT? I thought he was being funny. But NO, he was serious. He said he would like to get naked & see me stripping & dancing *for him*. He also told me that... he is fond of girls from Calcutta; he has "made out" lot of times, with random girls in 'Cal'", wrote Reshma Patra. She says she didn't tell anyone about the alleged incident, fearing they would laugh it off.
Arunabh Kumar, who had maintained a radio silence on the issue so far, spoke exclusively to
Mumbai Mirror
rejecting the charges. "I unconditionally and unequivocally deny all these allegations. Social media has already declared me an offender, but I am ready to address all the allegations against me. I am open to receiving a police complaint so that I can respond legally as well. TVF is bigger than me and if there is a remote chance that I have done any wrong, let me be persecuted", he told Mumbai Mirror.
Reema Sengupta, a director who worked with TVF, also levelled similar allegations against Mr Kumar on Monday. In her Facebook post, she wrote that Arunabh Kumar allegedly touched her inappropriately during a shoot with the channel. Mr Kumar admitted he worked with her on a shoot but denied having behaved inappropriately. "The kind of insinuations the FB post makes are untrue. I am a heterosexual, single man and when I find a woman sexy, I tell her she's sexy. I compliment women. Is that wrong? Having said that, I am very particular about my behavior - I will approach a woman, but never force myself", he told Mumbai Mirror.
Colleagues of Arunabh Kumar have been vociferously defending the executive online, trashing all allegations against him. The Viral Fever posted an official statement on the original blog calling it 'defamatory and ludicrous'. "We will leave no stone unturned to find the author of the article and bring them to severe justice for making such false allegations", they wrote. Their strongly-worded statement angered people on social media for its threatening tone. The Viral Fever was criticised for not offering to probe the allegations.
Following social media outrage and multiple women speaking out online, Nidhi Bisht, a writer-director with TVF, wrote on Facebook that she is 'equally shocked' by the allegations and that TVF will launch an investigation into the claims. She toned down her previous stance where she outright rejected the allegations.
Industry names also reflected on the multiple claims circulating on social media.
Amit, why are there more than 9 women/young girls with this claim? How is everyone coming out to tell a concerted lie AT THE SAME TIME? https://t.co/mgWIzhWCBe

— Aditi Mittal (@awryaditi) March 13, 2017
Don't care if you're friend, foe, in the 'industry'.
If this volume of women are coming out against you.
You may have a terrible problem.

— Sorabh Pant (@hankypanty) March 13, 2017
Sickened by all the allegations coming to the fore. There's no place for such behaviour in 2017.

— Ashish Shakya (@stupidusmaximus) March 13, 2017
It is very hard for women to speak up against harassment at the work place and as entrepreneurs it is our duty to make them feel safe.

— Tanmay Bhat (@thetanmay) March 13, 2017
Sexual harrassment has no place at work in 2017. Any workplace with 10 + employees is legally bound to follow this https://t.co/Pr9mcfdXg7

— Rohan (@mojorojo) March 13, 2017
Women I personally know are now opening up about this. This is heartbreaking. Hope the right action is taken now. https://t.co/ZFvyfrIRls

— Sapan Verma (@sapanv) March 13, 2017
The Viral Fever, founded in 2011 by Arunabh Kumar, is a digital entertainment channel on YouTube. It is popular for web series like Pitchers, Tripling, Permanent Roommates and several satirical videos. It also owns the women-centric YouTube channel Girliyapa.