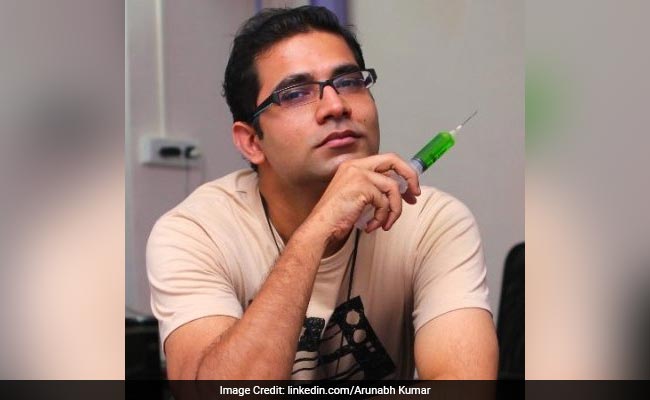 Highlights
Anonymous woman claims she was molested by TVF chief Arunabh Kumar
Two more women publicly back her claims after her blog goes viral
Allegations are baseless, ludicrous, say The Viral Fever in a statement
New Delhi:
A former employee of online entertainment channel The Viral Fever (TVF) has alleged that the CEO and Founder of the company Arunabh Kumar molested her several times during her two-year stint at the firm. In an anonymous
blog
titled 'The Indian Uber - That is TVF', the woman who goes by the name 'Indian Fowler' has detailed the several alleged instances of molestation by the executive. TVF has rejected all allegations by her in a statement.
The woman in her blog says she first met the TVF boss at a Mumbai cafe in 2014. Arunabh Kumar hired the then-22-year-old Delhi University graduate to his firm who also came from the same city in Bihar as him. "He came from the same city. Muzaffarpur. So we moved from '
main
' to '
hum'
. The typical way Bihari's speak. "
humko bambai me bahut akelapan mahsoos hota hai
(I feel very lonely in Mumbai)", she writes.
The woman in her post alleges that the first instance of abuse happened after just 21 days of working with the company. "I was getting where he was leading the discussion to. I avoided an interaction. I said 'Arunabh,
aap bade bhai hain. Meri tabiyat thodi theek nahi hai. Kya karna hai bataiye. Hum karke ghar jaayenge
(Arunabh, you are like an elder brother. I am not feeling well. Tell me the work. I will finish it and leave)'. He suddenly holds my hand. Says 'Madam,
thoda role play karein
(Madam, do some role play)'. I was stunned", she writes.
"Since then it became routine. Right from Pitchers to Tripling, I was molested. Be it in parties where Arunabh would try to lift me or would try and fall on me pretending he is drunk", she adds.
The woman alleges that even a threat of a police complaint didn't stop the executive. "And I told him I will go to the police. He says '
police to meri pocket me hai
(Police is in my pocket)', she claims. She allegedly told her bosses about the molestation but instead of taking action, they reportedly told her to 'walk out'. Some even said '
hota hai
(it happens)', she claimed.
In a comment on the blog, The Viral Fever posted their
official response
to the woman's allegations calling them 'defamatory and ludicrous'. "All the allegations made against TVF and its team in the article are categorically false, baseless and unverified. We take a lot of pride in our team and in making TVF a safe workplace that is equally comfortable for women and men. We will leave no stone unturned to find the author of the article and bring them to severe justice for making such false allegations", they wrote on the blog.
The woman quit the company in 2016 but claims the legal team still sends her reminders about her breach of contract and fears that she is being tracked. There is no information on whether a police complaint was filed.
Soon after the post went viral, two women have come forward backing her claim. In a comment on the original post, Aayushi Agarwal wrote she faced a similar experience at the firm.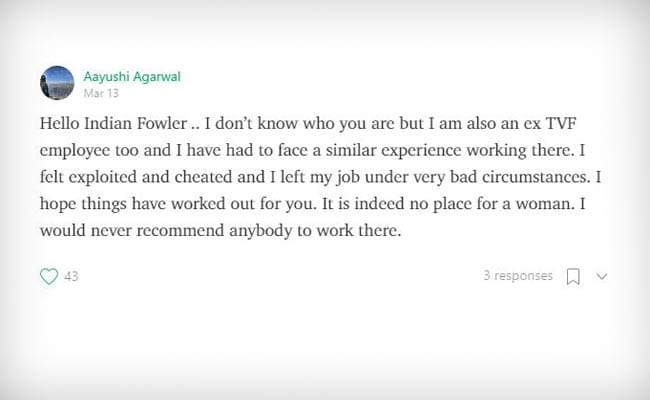 Another woman named Reema Sengupta reacted to the post on Facebook and described her experience while working as a director with TVF. "After every other shot, he would come over to the monitor to see how the shot looks, but at the same time graze his hand against my waist. All this in a 5-hour shoot. I can only imagine what she must have gone through for 2 years!", she wrote.
Arunabh Kumar, an IIT graduate, founded The Viral Fever in 2011. The YouTube channel (now also an app) is popular for its satirical web series and has over 2 millions subscribers on YouTube.