Highlights
Legislator Ganesh Josi attacked the horse with a stick.
Soon, its left hind leg was seen bleeding.
Veterinarians said the leg will have to be amputated.
Dehra Dun:
A BJP lawmaker in Uttarakhand was caught on camera beating a horse during a protest meeting today.
Mounted police had been stationed near the assembly to stop the protest, held by BJP workers against the Congress government of Chief Minister Harish Rawat. As the protesters came close to the barricade, the police tried to control the crowd.
A scuffle started, during which Ganesh Joshi, the sitting legislator from Mussoorie, was seen striking at the legs of a police mount with a stick.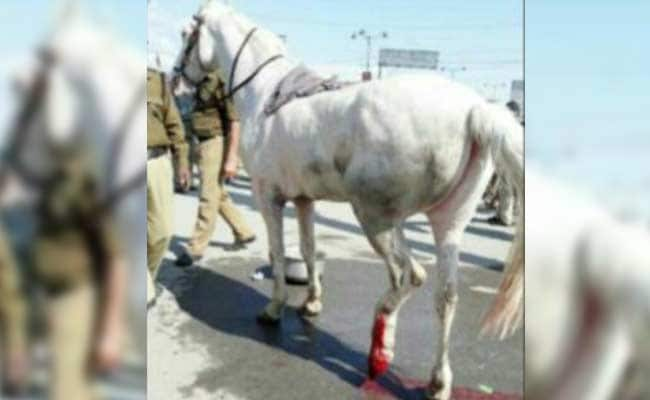 Soon, the left hind leg of the horse was bleeding and it had to be carried off in a veterinary ambulance.
Veterinarians have said the leg will have to be amputated. A case will be filed against the BJP lawmaker, the police said.
The incident generated widespread condemnation. "You are using lathi on a horse? I think the word "tolerance" is not there in the dictionary of BJP," Chief Minister Mr Rawat was quoted as saying by news agency ANI.
But the lawmaker countered, saying the horse had collapsed as it had not been given any water through the day.
"The horse wasn't given any water throughout the day. As soon as some water was given to the horse he was fine. He was just thirsty. I am not at fault at all," he told reporters, releasing a different video that shows the policeman riding hard on the horse.