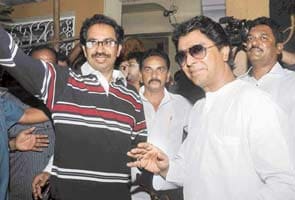 Mumbai:
Uddhav Thackeray, who took over as the Shiv Sena chief after his father Bal Thackeray died in November, has announced his first major initiative for the party - a possible merger with cousin Raj Thackeray and his party, the Maharashtra Navnirman Sena (MNS).
The Shiv Sena and the MNS have been fiercely competitive in Maharashtra politics, partly because their brands are similar, and largely because their founders were estranged for nearly six years after a family fallout.
In an interview with the Sena mouthpiece,
Saamna
, Uddhav Thackeray said, "If Raj Thackeray wants an alliance with the Shiv Sena, we will welcome him. I welcome every one who is genuinely willing to join hands with us."
Later, Shiv Sena spokesperson Sanjay Raut said the import of his leader's declaration should not be overlooked. "This is not just a statement," Mr Raut said. "He (Uddhav) is elaborating on the plans of the party, the direction the party will take."
When Bal Thackeray picked his son Uddhav as his political successor, Raj quit the Shiv Sena and created the MNS. Like his cousin, he fought for the Marathi voter, arguing against the influx of immigrants into Mumbai, often with hate speeches which resulted in police cases but little action.
Raj's MNS did well politically, but it ate into the Sena's support base, benefitting the Congress-NCP alliance that has governed Maharashtra for over a decade. If Uddhav and Raj combine, analysts say they could present a formidable challenge to the incumbents.
Uddhav and Raj made up in the months before Bal Thackeray died. Raj visited Uddhav when he was hospitalized with heart problems; he was by his uncle's side when Bal Thackeray died, and at the cremation, the cameras cut often to him sobbing.