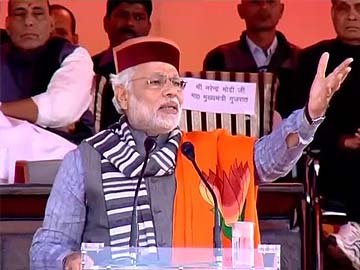 Sujanpur (Himachal Pradesh):
Accusing Congress of pursuing vote-bank politics, Narendra Modi said that the turmoil over the bifurcation of Andhra Pradesh was a perfect example of how the ruling party sowed "seeds of poison".
"You (Congress) have started this vote-bank politics and now you are blaming us (BJP). It is Congress which sows seeds of poison. Andhra Pradesh is the perfect example to prove that you do 'zeher ki kheti'," Mr Modi said while addressing a rally in Sujanpur. (
Highlights of Narendra Modi's speech
)
Taking on Congress chief Sonia Gandhi, the BJP's prime ministerial candidate said, "Madam is saying the next election is for unity and that we sow seeds of poison. But who is doing this? Who started this? Who created rifts between brothers, states? Who differentiated between the rich and the poor?"
Noting that the creation of three new states under the NDA regime had been a smooth affair, Mr Modi said that there was no strife when BJP bifurcated Uttar Pradesh, Madhya Pradesh and Chhattisgarh.
"BJP does politics of love, not hatred," he said.
"One day, a Kerala leader praised me, he was removed. A minister from Kerala met me, he was taken to task. This politics of hatred and untouchability is not good for democracy," he said.
Congress is "a dynastic party and dynastic politics is the enemy of democracy", he said.
He also slammed the UPA government over the issue of inflation and said that although Congress had promised to combat price rise within 100 days, it had not been able to do deal with the problem.
"In the past 60 years, Congress has done nothing towards development, but the BJP will change everything in 60 months," he said.