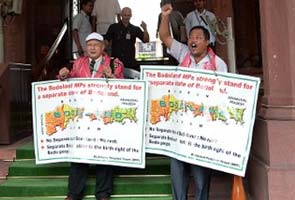 New Delhi:
The first day of the Monsoon session on Monday went the way of the last few sessions of Parliament, that have seen more adjournments than work done. But this time it was not the BJP that stalled proceedings.
Leader of opposition in the Lok Sabha Sushma Swaraj tweeted on Monday afternoon, "1st day of Monsoon session - Lok Sabha could not transact any business because Congress MPs from Andhra disrupted the proceedings."
Among MPs from Andhra Pradesh who protested inside the Houses against the decision to carve out a new Telangana state, were Congressmen from the non-Telangana regions - coastal Andhra and Rayalaseema.
Some carried placards that demanded a united Andhra Pradesh, while some held copies of a newspaper report that Telangana Rashtra Samithi chief K Chandrasekhar Rao had reportedly told government employees from this region to leave Telangana.
The government has lined up an ambitious 44 bills, including five ordinance for the 16 working days this small session and the BJP has promised that it will help pass important legislation in this session. "We will fully cooperate; we had definite issues in the last session," said the party's Ravi Shankar Prasad this morning.
But asked if Parliament would work on the first day of the monsoon session, Mr Prasad had said with wry smile, "Ask Congress friends of Andhra Pradesh and others."
Minister of State for Personnel V Narayanasamy refused to hand out brownie points for that assurance. "According to my feedback, the two three sessions when some political parties were disrupted, the public opinion is going now against them. Therefore, they are also now compelled to participate in the debate in parliament," he said.
Mr Narayansamy admitted that Congress leaders from non-Telangana are unhappy, but said, "We will persuade them, we will tell them, we will take them on board."
Congress leaders from the two non-Telangana regions are upset about the decision to bifurcate Andhra Pradesh. Many of them have threatened to resign over the issue.