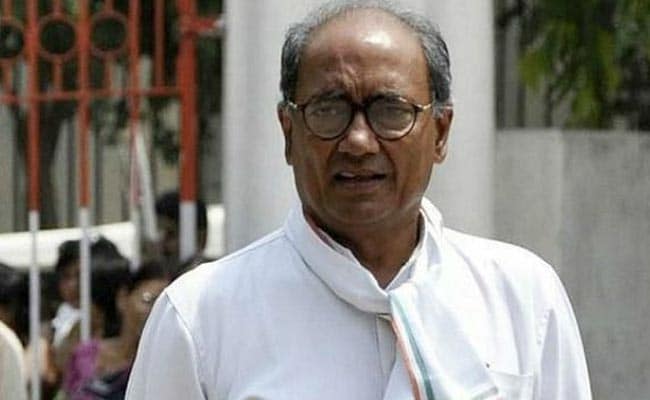 New Delhi:
Senior Congress leader Digvijaya Singh raised hackles in Telangana today with a series of controversial tweets that accused the state police of setting up a bogus ISIS site to trap young Muslim men. He questioned if the move was ethical and moral and even invoked chief minister K Chandrasekhar Rao, asking him to step down if he authorized the move. While the Chief Minister kept his peace, state info-tech minister KT Rama Rao reacted sharply, saying as a former Chief Minister, Mr Singh should behave responsibly.
The Telangana police joined in, tweeting that the allegations could "lower the morale of the police fighting anti-national forces".
In March, the Telangana police had conducted an operation with the police force of four states following which 8 men were arrested and a suspected terrorist died in a 12-hour operation at a house in the outskirts of Lucknow. The Uttar Pradesh anti-terror squad said the man killed, Saifullah, was a self-radicalised follower of ISIS, who had been involved in a train blast in Ujjain, Madhya Pradesh, in which 10 people had died.
This morning, Mr Singh, who was removed as the Congress in-charge of Goa and Karnataka after the party poor performance in the recent elections, tweeted:
Telangana Police has set up a bogus ISIS site which is radicalising Muslim Youths and encouraging them to become ISIS Modules.

digvijaya singh (@digvijaya_28) May 1, 2017
The issue is whether Telangana Police should be trapping Muslim Youths in becoming ISIS modules by posting inflammatory information?

digvijaya singh (@digvijaya_28) May 1, 2017
Mr Singh further tweeted that "It was on their (Telangana Police) information that MP Police arrested accused who were responsible for the bomb blast in train in Shajapur District of MP. It also resulted in Saifullaha encounter in Kanpur the same day".
It also resulted in Saifullaha encounter in Kanpur the same day.

digvijaya singh (@digvijaya_28) May 1, 2017
Is It Ethical ? Is it Moral ? Has KCR authorised Telangana Police to trap Muslim Youths and encourage them to join ISIS ?

digvijaya singh (@digvijaya_28) May 1, 2017
He said if the Chief Minister has authorised such a move then he should own responsibility and step down and if not, he should "punish those responsible for such a heinous crime".
Within an hour, minister KT Rama Rao hit back.
Most irresponsible & reprehensible thing coming from a former CM. Request you to withdraw these comments unconditionally or provide evidence https://t.co/cg7p7Ym48X

KTR (@KTRTRS) May 1, 2017
The state police retweeted him, adding:
Unfounded allegations from a senior responsible leader will lower the morale and image of Police engaged in fighting anti-national forces https://t.co/vzR8dfVldc

DGP TELANGANA POLICE (@TelanganaDGP) May 1, 2017
Around 80 people, who were allegedly influenced by ISIS ideology, have been arrested across the country. A few of them were from Telangana. But there is no evidence that ISIS has set up any module in India, the government has said. Most of those arrested were found to have been indoctrinated by ISIS videos uploaded online or speeches of its leader founder Abu Bakr Al-Baghdadi.
On April 20, three men were arrested from Maharashtra's Mumbai, Bijnor in Uttar Pradesh and Punjab's Jalandhar. Sources said the module was in line with the cells busted in Kerala and Andhra Pradesh, where the members were indoctrinated online. The cells were largely self-funded, and told to organise weapons on their own to attack local targets. The men, the police said, were trying to recruit members from the three states.