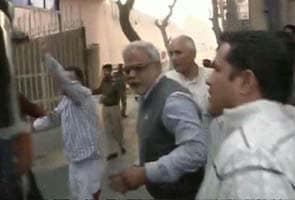 New Delhi:
Former Haryana Chief Minister Om Prakash Chautala and his son Ajay Chautala, a legislator, arrived at Delhi's Tihar Jail on Wednesday evening. They are among 55 people convicted today in a case of alleged illegal recruitment of over 3000 teachers.
A court will pronounce the quantum of sentence on January 22, Tuesday next, and the Chautalas and others found guilty in the case will be in jail till then. The father and son will be housed in the same cell in jail number 4 of Tihar, where Congress leader Suresh Kalmadi had stayed till recently.
They were brought to Tihar using a side entrance to avoid dozens of supporters who had gathered at the main entrance of the prison today.
Mr Chautala, 78, heads the Indian National Lok Dal or INLD. His son and he are accused of using forged documents to recruit 3,206 junior basic teachers in place of more deserving candidates who had applied, in Haryana in 1999-2000.
They have been charged under the Prevention of Corruption Act, which carries a maximum punishment of seven years. Because they have now been convicted on corruption charges, they are not only barred from contesting elections next year, which will be a body blow to the Haryana party, but for six years after their jail terms.
The former chief minister's other son, Abhay Chautala, who is president of the Indian Olympic Association, indicated that the family would appeal against the judgement, saying, "There are higher courts as well." "The entire process of recruitment was done during Bansi Lal's government," he claimed.
The Central Bureau of Investigation had filed a chargesheet in June 2008. It had also named IAS officer Sanjiv Kumar, who filed the complaint, and Mr Chautala's former Officer on Special Duty Vidya Dhar in its chargesheet. Mr Kumar was held guilty today. The agency had originally charged 62 people in the case; six have since died and one has been discharged.
Reacting to the arrest, political rival and Haryana Chief Minister Bhupinder Singh Hooda of the Congress, said, "The law is doing its work and those who break the law face the consequences."
Haryana Janhit Congress chief Kuldeep Bishnoi demanded a tough sentence against the Chautalas, saying a message should be sent out against corrupt politicians and bureaucrats.