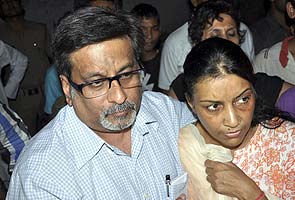 Ghaziabad:
The CBI today concluded its arguments in the 2008 Aarushi Talwar-Hemraj killing and told a court that Aarushi's parents Rajesh and Nupur Talwar committed the double murders using a kitchen knife and a golf club.
Wrapping up its case in India's biggest murder trial, the CBI told a court in Ghaziabad that after killing their 14-year-old daughter and domestic help Hemraj, the Talwars dressed up the crime scene and destroyed evidence.
Aarushi Talwar was found murdered at her parents' Noida residence on May 16, 2008. The body of their domestic help Hemraj was found the next day on the terrace of the house. (
see special feature: India's unsolved mystery
)
The CBI says the Talwars tried to tamper with evidence by trying to influence a doctor who conducted the autopsy of the teenager.
Arguing their case against the dentist couple, the agency also said the two used their home computer's internet through the night of the murder, indicating that they did not sleep through the crime as they had claimed.
The CBI's evidence against the couple includes bloodstains on a staircase that led to the terrace where Hemraj was found, which were found partially mopped. The CBI lawyer said finger prints collected from the Talwars' house from a whisky bottle also suggested the involvement of the parents of the teenager in the murder.
The sensational murders baffled investigators and saw a series of botch-ups and numerous flip flops on suspects before the CBI took over a few months later. The Talwars say they are innocent, and have accused the CBI of ignoring crucial evidence in order to pin the murders on them.