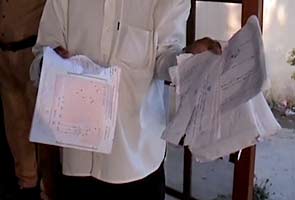 Amritsar:
A Bharatiya Janata Party (BJP) leader and his son allegedly threatened and beat up an examination official at a centre in Amritsar where the politician's daughter was appearing for the class 12 boards. The official says he had prevented them from helping the girl cheat.
Pran Nath, BJP general secretary in Amritsar district, and his 15-year-old son were arrested on Friday. A day before, they had gathered supporters and allegedly forced their way into a government school in Bhangali Kalan, where the girl was writing the computer science paper.
Pushpinder Kumar, the examination superintendent, says Pran Nath's son threatened him when he was prevented from entering the classroom.
"After the exams were over, the father and son returned with about 15 men and beat me up. They were armed with a pistol and a rifle," he said.
Police officer Lovepreet Singh said Pushpinder Kumar suffered injuries from the assault.
Pushpinder Kumar's colleague says she was roughed up while trying to protect him. The men also tore several answer sheets.
Pran Nath is the brother of Amritsar zila parishad chairman Rajinder Kumar, who is an Akali Dal leader.