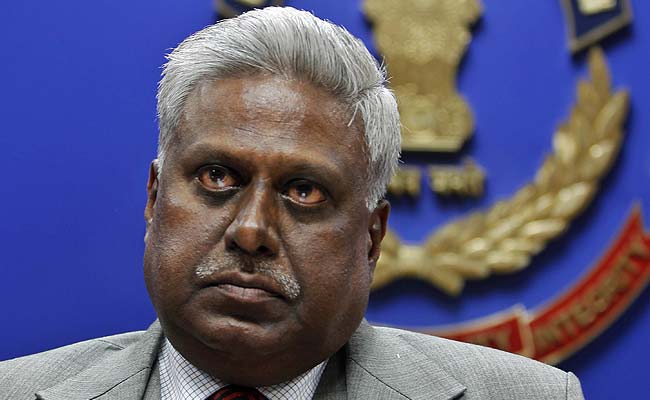 New Delhi:
The top man of India's premier investigating agency has been removed today by the Supreme Court from an inquiry into one of the country's largest financial swindles.
The judges ruled that there is "credible" information that CBI director Ranjit Sinha has been trying to subvert his own agency's inquiry on the telecom scandal, dubbed the "2G scam" after the second-generation airwaves involved.
Mr Sinha has been accused by lawyer-activist Prashant Bhushan of trying to protect some of the telecom executives that his agency has charged with criminal conspiracy. As evidence, Mr Bhushan submitted in September a diary of visitors to the CBI chief's home. Regular house calls were made by men who are named as the accused by the CBI.
Mr Sinha said that because his residence includes an office, he met with people who wanted to explain their defense. He denied any wrongdoing or attempt at subterfuge, a posit that has been forcefully rejected by the Supreme Court today.
The Supreme Court has been monitoring the CBI's investigation since 2010 based on a petition by Mr Bhushan.
The CBI says that in 2008, then Telecom Minister A Raja took large bribes from firms who were given out-of-turn mobile network licenses; second-generation airwaves were attached to the licenses for no extra cost. The entire swindle was worth 1.76 lakh crores according to the national auditor in a report in 2010, igniting a national controversy.
Dr Manmohan Singh's coalition government was in power both when the telecom licenses were handed out and when the auditor shared the estimate of losses. The 2G scam became one of a retinue of corruption scandals that engulfed Dr Singh's government, which was trounced in this year's election.
Government sources sought to point out that as Leaders of the Opposition in both houses, Arun Jaitley and Sushma Swaraj - both union ministers now - had written to Dr Singh objecting to the appointment of Ranjit Sinha as CBI chief. "It is time for those who appointed the current CBI director to introspect," sources said.