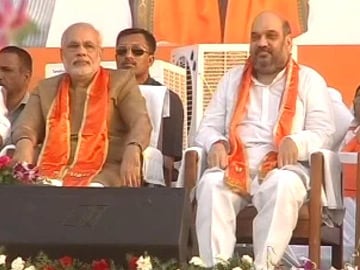 New Delhi:
A young woman architect was tailed illegally not just in Gujarat but also in Bangalore, claims news website gulail.com, adding a thick new layer to the controversy which first stacked up around the BJP's prime ministerial candidate
Narendra Modi
in November.
BJP leader Prakash Javadekar dismissed the new allegations as "the dirty work of the Congress."
Gulail alleges that the architect's phone conversations in Bangalore, where she lived, were intercepted by the Gujarat Police in 2009 without required clearances, because a "saheb" wanted the details of her meetings with the man she planned to marry.
(Read the full report on gulail.com)
After the first instalment of the controversy unfolded in November, the Congress said that it's clear that the "saheb" is Mr Modi.
Gulail claims that Gujarat Police officers directly ordered telecom operators to let them listen in to the woman's conversations in Bangalore. In Karnataka, the BJP government was then headed by BS Yeddyurappa. The Home Ministry in both states was not consulted, as required by law.
The stalking of the young woman was first raised by Cobrapost last month. It said that GL Singhal, a senior cop from Gujarat, had turned in more than 200 secretly-recorded phone conversations to the CBI. The tapes allegedly establish how senior policemen tailed the woman when she visited her family in Gujarat - there are repeated references to the information being passed on to "saheb".
The BJP, forced into heavy-lifting defence of Mr Modi, said in response that the woman's father had requested that she be given security because he was worried about her safety. A letter from her father reinforcing this claim was sent to the National Commission of Women, urging it to ignore the demand for an investigation.
Gulail says that the revelations of how the woman was monitored in Bangalore have emerged from a new set of conversations between the police officer GL Singhal and AK Sharma, who then headed the Intelligence Bureau in Gujarat.