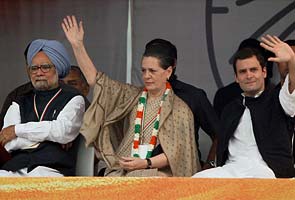 New Delhi:
Buffeted by charges of corruption against the UPA government, the Congress on Sunday put up a massive show of strength at a rally in Delhi with Prime Minister Manmohan Singh and Congress president Sonia Gandhi hitting back at detractors and asserting that the recent slew of economic reforms will benefit the country and create more jobs. However, the Opposition leaders weren't too impressed with Congress' show of strength or claims made at the Ramlila ground.
Here's what the leaders had to say:
Prime Minister Manmohan Singh
We need economic reforms to create more jobs. The people are being misled about recent government decisions. We have done a lot of work in the last eight years.
Many times we need to adopt the more difficult path rather than take the easy way out because that may be beneficial for the country's future. Those opposing us will be proved wrong. Eight crore people have benefited from the MNREGA. Twelve crore children have benefited from mid-day meal programme. Prosperity should reach the common man.
All will be benefited. Farmers will get the right price for their produce. New employment opportunities will emerge. It is wrong that FDI in retail will affect farmers. Such a suggestion is aimed at misleading the country.

Rahul Gandhi, Congress general secretary
The political system is closed for the aam aadmi, the weaker sections. When you interact with the system, go to government offices, children want to go to school, youth want jobs, the system is closed for them. Political parties are closed for the aam aadmi. The youth is aspirational, but our system is closed for them.
We will get the (Lokpal) bill passed in parliament soon. Wait and watch. The opposition stalled the Lokpal Bill in the previous sessions of parliament. But we will bring it again.
We were also in the Opposition. Then the Kargil war happened. We were all together. Congress stands together in the interest of the country whether we are in government or not. They (BJP) oppose without any thought. They are engaged only in opposing without giving a thought to anything.

At a time when there is a positive atmosphere for the country and India has a standing in the world, the Opposition is engaged in opposing every measure of the government without giving a thought to it.

Sonia Gandhi, Congress president
These parties want to weaken the government you had elected. They repeatedly put obstacles in the functioning of Parliament. Why do they do so? The answer is straight forward - these people do not want various public welfare measures to be passed by Parliament.
They are mired in corruption charges themselves that is why they are making false allegations. They want to weaken the democratic edifice of this country, but we will not let them succeed. They lecture us on corruption but are corrupt themselves.
Jo durse ke liye gaddha khodta hai, uske liye kuan tayyar rehta hai (those who dig pits to trip others, often ready wells for themselves to fall in).

Arun Jaitley, Leader of Opposition, Rajya Sabha
This was a rally intended to create a false bravado when they have failed on the financial front and in giving a clean government. It has no idea on how to control prices and has rationalised diesel and LPG price hike. The Congress is rejoicing in the misery of the common man.
The government has no answer to the manufacturing jobs falling due to FDI in multi-brand retail and to the displacement of retail jobs. It says middlemen will be eliminated but this will only benefit the retailers and not the farmer. In the US and Europe, a subsidy of $1 billion per day is given to farmers due to this reason.

Murli Manohar Joshi, BJP leader
Like the buffalo enjoys her fodder they (UPA) are enjoying their fodder of FDI insensitive to the needs of poor and are sensitive only to the needs of foreign and multinational companies.

Sanjay Raut, Shiv Sena spokesperson
Rahul is not only bachcha (novice) in politics but also kachcha (immature). If Rahul does not understand the difference between Kargil and FDI in retail, he has no right to be in politics.
Prakash Karat, CPM general secretary:
It is not a question of no confidence. On FDI, there should be a vote", he said when asked whether the opposition will bring no-confidence motion in Parliament. We will challenge the government that if this decision is so important for the country then it should be passed in Parliament. Let there be a vote. The whole opposition in unison will state that this decision should get Parliament's approval.

Subramanian Swamy, Janata Party president
What a flop show...The speeches were disastrous. Most of all there was no enthusiasm in the crowd. Rent a crowd.
Manish Sisodia, India Against Corruption leader:
You were in power for eight years. Instead of saving the country, you destroyed it. They don't do anything in Parliament but is making a hue and cry in Ramlila Maidan.
Baba Ramdev, yoga guru:
The party's 'hand' is now not with the common man, but with multinational companies like Walmart, capitalists and the corrupt. By allowing FDI, the government would be able to bring just Rs 2,00,000 crore, but if it would have taken action against 100 corrupt people, it would have been able to recover Rs 100 lakh crore.