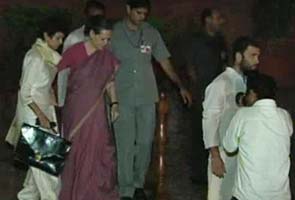 New Delhi:
Sonia Gandhi, the president of the Congress, was discharged from Delhi's AIIMS hospital at 1:30 am on Tuesday, nearly five hours after she was admitted here.
"Mrs Gandhi had cold and a headache. She had a medicine and started feeling uneasy in Parliament. She came here, we conducted tests... everything is normal. She left for home in her own car," a doctor at AIIMS said.
Mrs Gandhi, 66, was taken to AIIMS from Parliament after she complained of chest pains; she left during voting on amendments to the food security bill, a welfare scheme she has championed ardently. Her children Rahul and Priyanka were with her, according to the Press Trust of India.
In a rare speech on Monday, she urged parties to unanimously support a "chance to make history" by clearing the food security bill that legally entitles 67 per cent of India to cheap food.
The AIIMS spokesperson had said that she had been taken to the Intensive Care Unit as a precaution, but said there was "nothing serious" about her condition. Congress leader Ambika Soni said "routine tests were conducted."
The Prime Minister was a late-night visitor; he was reportedly driven in through a gate at the back of the hospital. The police cordoned off a 500-metre stretch leading to the Intensive Care Unit to allow a steady stream of VIPs. However, sources said, most visitors were not allowed to see Mrs Gandhi.
They included Congress leaders like Delhi Chief Minister Sheila Dikshit and union ministers like Salman Khurshid, Jyotiraditya Scindia and Ghulam Nabi Azad.
Mrs Gandhi left Parliament at 8:15 pm escorted by her son and Congress vice-president Rahul Gandhi. She appeared to stumble as she walked down Parliament steps. Mrs Gandhi quickly held central minister Kumari Selja's hand and recovered her balance.