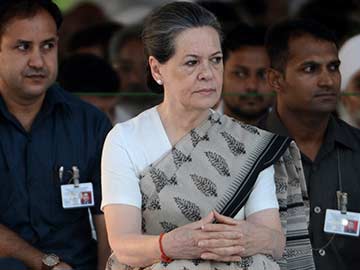 New Delhi:
Congress President Sonia Gandhi told NDTV today that the new government is being politically vindictive by targeting her and other Congress leaders including her son, Rahul, in a case that alleges they misused the funds of a newspaper once run by the family. (
Sonia Gandhi, Rahul Gandhi Summoned to Delhi Court Next Month
)
"This kind of political witch hunt will only help us and help us to come back faster," Mrs Gandhi told NDTV, confirming that her party has been served notices by the Income Tax department, asking why its tax benefits should not be withdrawn.
Political parties are exempt from taxes on all sources of income. But the Congress allegedly broke the law by loaning Rs. 90 crore to a firm where the majority stake is owned by the Gandhis. Political parties cannot give loans for commercial transactions. (
Yes, gave 90-crore loan to revive Nehru's newspaper: Congress
)
"We don't believe in political vendetta. But if a law has been broken, there will be consequences," said union minister Prakash Javadekar.
At the heart of the controversy is a court case filed by BJP leader Subramanian Swamy, which has led to the Gandhis being ordered to appear in a Delhi court next month. (
Rahul Gandhi threatens to sue after Subramanian Swamy accuses Gandhis of 'fraud'
)
Mr Swamy alleges that the Gandhis floated a firm called the Young Indian Company which acquired Associated Journals Limited, the publisher of three newspapers, including the National Herald, an English daily founded and edited by Jawaharlal Nehru before he became India's first prime minister. The paper was shut down in 2008 by Mrs Gandhi. (
Also Read: Why Rahul Gandhi Caught Attention in Parliament on Monday
)
Mr Swamy says the Congress used its party funds to enable the Young Indians to own Associated Journals and that the Gandhis aimed to grab property worth thousands of crores that belonged to the publishing company.
The Gandhis are directors of Young Indian, owning 76 per cent stake in it and the remaining shares are owned by four other Congress members, who have also been summoned to court on August 7.
Congress party spokesman Abhishek Manu Singhvi has dismissed Mr Swamy's charges as "baseless and motivated."
Sources in the Finance Ministry told NDTV, "There is no ambiguity in the law. If money goes to political parties, it needs to be utilized for political purposes. The Congress Party needs to reverse the fund transfer or face consequences".