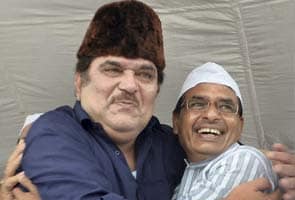 Bhopal:
BJP Vice President Uma Bharti criticised Madhya Pradesh Chief Minister Shivraj Singh Chouhan's Eid gesture of wearing a Muslim skull cap today and called it "cheap".
"There is no need for Hindus to wear cap on the occasion of Eid and for Muslims to don saffron colours to greet Hindus on Diwali since the national tricolour is enough to unite all citizens," she said.
Tweeting her reaction to Bollywood actor Raza Murad's comments, Ms Bharti called the politics of wearing a skull cap on Eid as "cheap".
"How is it possible for a 'C' grade actor like Raza Murad who had condemned Gujarat Chief Minister Narendra Modiji to stand beside Madhya Pradesh Chief Minister Shivraj Singh Chouhan"? she said, referring to Mr Murad who was present at the Idgah and appreciated Mr Chouhan's gesture of putting on a skull cap.
Like every year, Chouhan reached the Idgah today to greet Muslims on the occasion of Eid and donned a cap offered to him by Muslim clerics.
Madhya Pradesh goes to assembly polls later this year.
"I do not think much importance should be given to sporting a skull cap since wearing it does not mean anything much," the actor said later.
The actor had said it was time for Gujarat Chief Minister Narendra Modi to "learn something" from Shivraj Singh Chouhan who did not show any aversion to skull caps.