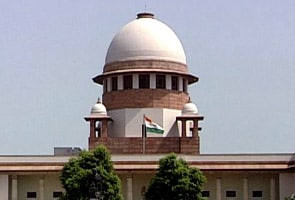 New Delhi:
As a national debate continues on disproportionate security provided to VIPs, the Supreme Court today again rapped the union and state governments for what it called the misuse of security at the cost of the ordinary citizen. While doing so, it also singled out for praise, Finance Minister P Chidambaram and former Defence Minister George Fernandes, for refusing security.
The court has asked each state and the Centre to detail within four weeks how much money is being spent to guard politicians and celebrities and their families.
"Security has become a symbol of power and it is misused, running riot on ordinary citizens," the top court observed, suggesting that threat perception for individuals be reviewed seriously by a high-power committee and not be related to the position the person holds. "Let us treat all citizens at par," it added.
The judges have sought to know by March 14 how many people are provided government security, what security is provided to the families and relatives of public functionaries, which private citizens are given security and also which persons charged with crime are given security.
Pointing out that not all government functionaries need elaborate security, the court observed that Finance Minister P Chidambaram had refused security when he was the country's home minister. And that George Fernandes, Defence Minister in the NDA regime, had never used security.
The court has also sought to know under what rules the police blocks roads to facilitate the movement of politicians and others, holding up traffic and inconveniencing common citizens.
It said its observations and directions today do not apply to the President of India, the Vice President, the Prime Minsiter, the Lok Sabha Speaker, the Chief Justice of India and also the counterparts of these dignitaries in states.
At a previous hearing, the judges had pointed out that protection for women needs to be drastically increased, and had referred to Delhi chief minister Sheila Dikshit's recent declaration that despite recent discussions about security reforms "women still feel unsafe in Delhi".
The paucity of security for women, especially in Delhi, was highlighted with brute force in December when a medical student was fatally gang-raped by six men on a moving bus in the Capital. The assault provoked large protests in Delhi and other cities. In response, the government introduced new anti-rape laws which include the death penalty for extreme cases of sexual assault.