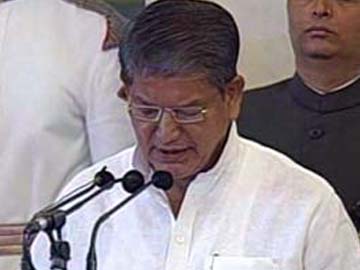 Dehradun:
Uttarakhand Chief Minister Harish Rawat yesterday said the second phase of restoration works at Kedarnath, which had suffered huge destruction due to the last year's floods, has begun.
Chairing a meeting with National Disaster Management Authority officials here, Mr Rawat said timely start of the annual pilgrimage to the Himalayan shrine had restored the confidence of visitors on whom tourism, the mainstay of the state's economy, depends.
He said Nehru Institute of Mountaineering and the Irrigation Department have begun work on rechannelising the Mandakini and Sarswati rivers to their original course as a change in their course is said to have been one of the factors which led to the mid-June deluge last year.
Work has also started on construction of an outer protection wall at the Himalayan shrine from Chairabari side and an inner protection wall from its backyard which will guard the ancient temple against calamities in future, he said.
Inhabitable buildings identified close to the shrine will be razed to the ground with the help of locals and a plan is being worked out to introduce a solid drainage system at the high altitude shrine, Mr Rawat said.
In the third phase, the steep slopes will be made gentler and Talli and Malli Linchauli will be developed as an alternative to Rambara, the famous stopover destination en route to the shrine which was washed away in the deluge.
A marketplace for the locals will also be set up there, he said, adding that more chopper services up to Linchauli will be introduced and ropeways and cable cars will ferry devotees to Kedarnath.
Mr Rawat commended efforts put in by different agencies amid odds like vagaries of the weather to ensure timely resumption of the Chardham yatra in May this year after their six-month winter closure.
He said adding reconstruction and rebuilding efforts in affected areas will cost an additional assistance of Rs eight thousand crore from the Centre.