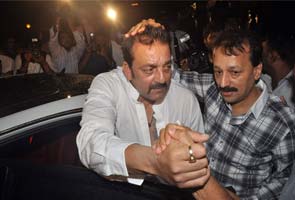 New Delhi/Mumbai:
Actor
Sanjay Dutt
has been sentenced to five years in prison by the Supreme Court which upheld his conviction for illegally possessing weapons in a case linked to the 1993 serial blasts in Mumbai. Over 250 people were killed in the terror attack. (
See case timeline
)
Because he has already served 18 months in jail, Mr Dutt will be imprisoned for over three years. The judges, who shaved off a year from his original sentence, ruled out his release on probation describing the nature his crime as "serious." They said Mr Dutt, who is 53, must be jailed within four weeks. (
Read: Sanjay Dutt is a strong man, we had prepared him, says lawyer
)
"If they want me to suffer more I have to be strong. I have always respected the judicial system and will continue to do so, even with tears in my eyes," Mr Dutt said in a stament. (
Read full statement
)
The actor had originally been sentenced to serve six years in prison for possessing an automatic rifle and a pistol that were supplied to him by men subsequently convicted in the bombings. He then served 18 months in jail for acquiring an AK-56 rifle from gangster Abu Salem before he was released on bail in November 2007, pending an appeal in the Supreme Court. (
Read: How a gun changed Sanjay Dutt's life
)
Mr Dutt had been acquitted of the more serious charges of terrorism and conspiracy.
Mr Dutt has maintained that he knew nothing about the bombing plot and that he asked for the guns to protect his family after receiving threats during the city's communal riots.
His sister, Priya Dutt, who is a Congress MP, broke down in court after hearing the verdict. (
Read
)
A total of 100 people had been convicted of involvement in the blasts by a TADA court in 2006.
The Supreme Court upheld the death sentence given to Yakub Memon, who is a brother of Ibrahim 'Tiger' Memon, one of the masterminds of the bombings who is missing. However, death sentences given to 10 other men convicted of carrying out the blasts were commuted to life in prison. Some of the men have been in prison for nearly two decades. (
Read
)