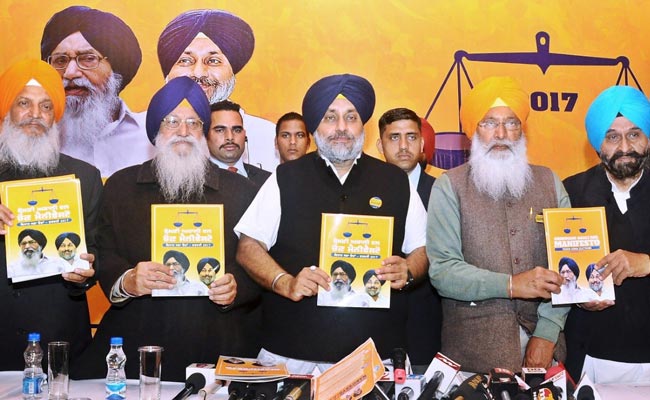 Ludhiana:
Promising waiver of farmers' debt, jobs for the youth and mega complexes for industry, the ruling Shiromani Akali Dal released its manifesto for the Punjab assembly elections, scheduled for February 4. The manifesto was released by the state's Deputy Chief Minister Sukhbir Singh Badal, who also coined a slogan of 'jo keha so kar vikhaya' ('we did what we promised').
Mr Badal, who is also the president of the Shiromani Akali Dal, further stated that a new scheme of providing upto five kilogram of sugar at Rs 10 per kg and 2 kilograms ghee at Rs 25 per kg, would be initiated and free electricity and other concomitant facilities for the agriculture sector will continue.
The Deputy Chief Minister said that the SAD-BJP alliance intends to waive off debts of all small farmers and would provide a fertiliser incentive worth Rs 100 per quintal as an additional support to the farm sector. Farm labourers will also be compensated in case of crop damage due to natural calamities, the manifesto promised.
"We have delivered what we have promised earlier: Be it making Punjab power surplus, introducing unique welfare, providing 100 per cent water and sewerage facilities in 165 towns... Now we will do the same in all 12,000 villages besides making cemented streets and putting up solar lights," Mr Badal said at the event.
The 117-assembly Punjab will witness a three-way contest between the ruling SAD-BJP alliance - which seeks a third consecutive term in power, the Congress - which seeks to regain control of the state and the debutante Aam Aadmi Party.
(with inputs from PTI)