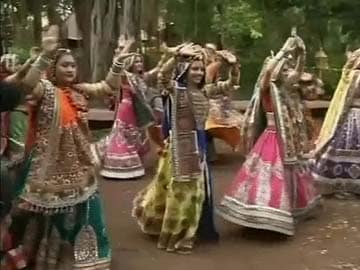 Ahmedabad:
From ornate
Gaghras
(skirts) to intricate tattoos to ethnic jewelry, the colours of Navratris (nine-day Hindu festival) are beginning to unravel. With barely a few days left for the nine nights of revelry, Gujarat is decking up for the occasion.
An important part of this festival is Garba, the traditional dance without which it would be incomplete. Across the state, dancing classes for Garba have cropped up as dancers practice overtime to give themselves a competitive edge. In Ahmedabad alone, many dance academies are offering a crash course for this.
"An element of competition is always there..but it is more about winning or loosing...we are happy that Gujarat's Garba has an element of popularity to it which comes out during the festival," said Niraj, a Garba enthusiast.
Women dancers are focusing on their ethnic wear and jewelry for the occasion. "We have created special props, designed our own dresses...also specially designed ornaments for the festival," said Hital Shah. (Who is Hital Shah? Not clear)
But even as these dancers prepare for festivities, announcements by right-wing groups such as Vishwa Hindu Parishad or VHP and Bajrang Dal reportedly ordering Garba organizers to prevent entry of Muslims, are a big dampener. Although organisers, at least in bigger cities like Ahmedabad, have not yet officially toed that line, the police is gearing up for any law and order situation.
Interestingly, in some places such as Godhra, Muslim organisations themselves have reportedly asked their community members to stay away from Garba venues to prevent any skirmish.
Meanwhile, the government maintains it will ensure a trouble free Navratra - an assurance that will be put to test once celebrations begin.