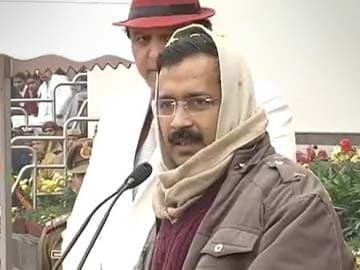 New Delhi:
Arvind Kejriwal
today defended his controversial two-day sit-in the heart of the national capital earlier this week, saying the move was not unconstitutional.
"Some people say I am unconstitutional. I re-read the constitution and couldn't find anywhere that a Chief Minister can't hold a 'dharna'," the Aam Aadmi Party chief said at an event in a school in the national capital, where the 45-year-old was greeted spiritedly as he entered the premises with his trademark muffler wrapped around his head.
The AAP chief along with his Cabinet had organised the sit-in to demand action against Delhi Police which his government accused of dereliction of duty in an alleged drugs and sex trafficking case involving some African nationals.
The agitation gridlocked the national capital and threatened Republic Day celebrations inviting staunch criticism from the opposition parties.
"When I sat on 'dharna', Section 144 was imposed. I thought to myself: has Delhi CM has become a threat to the city?" Mr Kejriwal, who famously called himself an 'anarchist' during the sit-in, said.
Section 144 prohibits an assembly of more than five persons in the area it is imposed in.
Mr Kejriwal also said his government is "almost ready" with the draft Jan Lokpal Bill, which, he said, will be passed in February at Delhi's Ramlila Maidan, where the 45-year-old leader had taken oath as Chief Minister earlier this month.
The anti-corruption legislation is on top of the manifesto of Mr Kejriwal's Aam Aadmi Party, which made its stunning debut in the Delhi elections last December. The law is also a part of its promises as the year-old party eyes the national elections, due by May.
The Delhi Chief Minister also joined his party in accusing the media of showing his party in a bad light. "Some editors are forcing their reporters to do a negative story against us. A reporter told me. He said he tried hard but could not find any negative story," he said.
His minister Somnath Bharti today accused the media of taking money from Narendra Modi, only to withdraw his statement and apologise shortly afterwards. (
Read
)