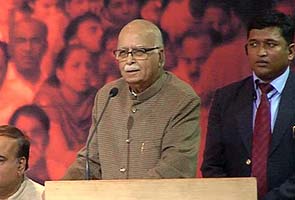 New Delhi:
Outgoing BJP chief Nitin Gadkari and LK Advani today addressed the media after the appointment of Rajnath Singh as the party's new president. Here are the highlights:
Nitin Gadkari
It was a honour to be the chief of this party.
That I, a grassroot worker who was a polling booth manager, who rose to this high office is only possible in the BJP.
Nationalism is our ideology, and through good governance we want to carry forward our work.
As far as the second term goes, there has been a political conspiracy to malign me in issues I am not connected to.
Yesterday, I felt it was a conspiracy to hurt the party by maligning me.
Before everything else we must consider the welfare of the party.
Rajnathji was the party president before me - he will take us all together and his leadership can lead us to victory in 2014.
People believe that if any party can change the future of this country, it is the BJP. I request all workers and leaders to work together to ensure that we are victorious under Mr Rajnath Singh.


L K Advani

I congratulate both Nitin Gadkari and Rajnath Singh.
Rajnath Singh, because I can say that from the beginning of the Jan Sangh - in a long political journey - there has never been a national president on whose election so many people have gathered.
Winning elections needs an ability to bring people together, and this he has in adequate measure.
They say we are an urban party, but the results have not borne that out... (Cites example of Madhya Pradesh)
Rajnath has focused on agricultural issues and farmers. I'm sure he will take the party forward on these principles.
It is his special responsibility that there should be no compromise with anything that's not moral. Then we can live up to being the 'party with a difference'.
We should also resolve to win lost ground in Uttar Pradesh. Rajnath is from the state and we should strive for that.
(Praises Nitin Gadkari's work ethics and ability for innovation) The biggest thing that has happened in the last few days - look at news from the Congress... the biggest thing that I must congratulate Nitinji for is that he has frustrated our political opponents and this has given a fillip to our workers.