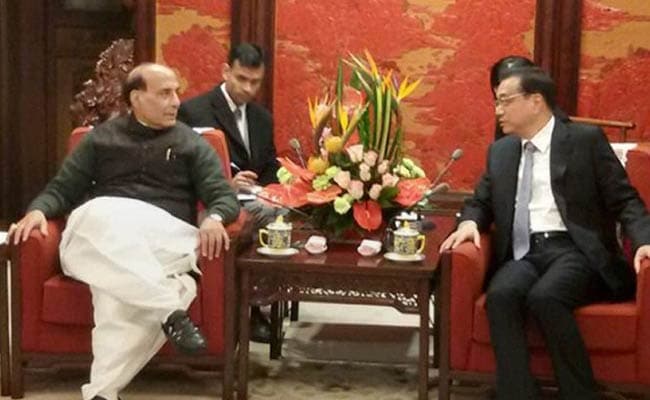 Beijing:
Voicing India's concern over the recurring incidents of incursions by Chinese troops, Home Minister Rajnath Singh today told Chinese Premier Li Keqiang that there should be an effective border management until the two sides reach a settlement over the dispute.
During his 40-minute-long meeting with Mr Li, Mr Singh, the first home minister to visit China in 10 years, called for effective border management with emphasis on maintaining peace and tranquility along the borders.
"I have expressed concern over the incursions," he told reporters after his talks with Mr Li and other Chinese officials.
The Chinese Premier too said the incursions should stop, Mr Singh stated while replying to a question.
He said there is a shared desire on both sides to maintain peace and tranquility along the border which is an essential prerequisite to gain momentum in the bilateral relations.
On the issue of different perceptions on border, he said "While we seek an early settlement there is need to ensure peace and tranquility and effective border management until we arrive at a solution."
On the joint mechanisms to resolve the border dispute, he said their functioning should be made fruitful.
The mechanism to resolve the border dispute is headed by National Security Adviser Ajit Doval and his Chinese counterpart and State Councillor Yang Jiechi.
There have been several incidents of incursion in Indian territory by Chinese troops in the recent past. Most of these incidents took place in the Ladakh sector.
India shares a 3,488-kilometre border with China, running along the states of Jammu and Kashmir, Himachal Pradesh, Uttarakhand, Sikkim and Arunachal Pradesh.
Mr Singh said during his talks with Mr Li issues related to economic cooperation also figured.
About concerns related to Chinese firms over security related issues, he said his ministry has cleared 20 Chinese companies including mobile firms to invest and operate in India.
Mr Singh would travel to Shanghai on Saturday by bullet train to get a feel of the Chinese technology.
China is currently competing with Japan to build high speed trains in India. While China is conducting feasibility study to build Chennai-New Delhi high speed train, Japan is conducting the same for Mumbai-Ahmedabad route.
Mr Singh said he also travelled by bullet trains in Japan during his visit there.