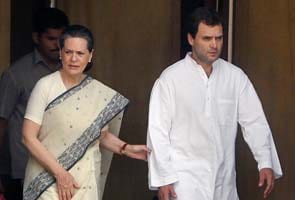 New Delhi:
Janata Party chief Subramanian Swamy today accused Congress president Sonia Gandhi and her son Rahul of "a stinking deal" where they floated a private company which then went on to illicitly acquire a public limited company which has valuable property in Uttar Pradesh and Delhi. He alleged that the Congress gave an unsecured loan of Rs 90 crores to the company that was acquired by the Young Indians, a firm that he says is controlled by the Gandhis.
Mr Gandhi's office has threatened legal action. A letter to Mr Swamy describes his charges as "scandalous abuse" and "as utterly false, baseless and defamatory."
(Read)
Sam Pitroda, technocrat and adviser to Prime Minister Manmohan Singh, also threatened legal action against Mr Swamy. "There are lots of legal options against this motivated and irresponsible content. To be frank and fair, I am surprised that these things are going on in India today. I don't know how else to respond. I would rather spend time and energy worrying about development."
(Read)
Mr Swamy's Janata Party belongs to the NDA, the coalition of opposition parties led by the BJP. He has asked for an inquiry by the CBI and the Corporate Affairs Ministry.
Mr Swamy said that the Gandhis together owned 76% of a company named Young Indians, which was incorporated in November, 2010, and allegedly went on to acquire the Associated Journals, which was founded by Jawaharlal Nehru and others in 1938 to publish newspapers that would offer Indians an option to British publications. The National Herald was published first in 1938; it closed down in 2008.
(Read: Swamy's allegations against Gandhis)
Mr Swamy claims that Associated Journals was given an unsecured loan of 90 crores from the Congress party - illegal under the Income Tax Act because a political party cannot give loans for commercial purposes.
He also alleged that the Young Indians wrote off the loan for 50 lakhs, and by a board resolution, the Associated Journals was sold by transferring its shares to Young Indians. Through this, Mr Swamy said, a public firm morphed into a private company.
The deal, Mr Swamy alleged, was a conspiracy to grab prized property owned by Associated Journals in Uttar Pradesh and Delhi, including the Herald House (See pic) in the capital, which Mr Swamy says is worth 1600 crores.
Among his flurry of charges is that the Young Indians' shareholders meeting "was held in Sonia Gandhi's Government allotted 10, Janpath. This is violation of the law since the 10, Janpath, New Delhi Government accommodation cannot be used for commercial purposes and business."
The Congress was dismissive of Swamy's allegations, saying that there are some characters who utter "anything, anytime". "In every society and country, you have some characters. The person you are referring might be one of them who could speak anything, anytime," Congress General Secretary Janardhan Dwivedi said.
"The government should immediately order a probe into the allegations," senior BJP leader Balbir Punj said.