New Delhi:
As they engage in a bitter war of words in battlefield Gujarat, Rahul Gandhi received a note from Prime Minister Narendra Modi
on being elected Congress president
.
"I congratulate Rahul
Ji
on his election as Congress President. My best wishes for a fruitful tenure," PM Modi said in a tweet to Mr Gandhi, who will formally
take over as Congress chief
from his mother Sonia Gandhi in a ceremony on the lawns of his party's 24 Akbar Road headquarters in Delhi on Saturday, two days before results are announced for the Gujarat elections.
Mr Gandhi was campaigning in Gujarat
, when his party announced in Delhi that he has been elected unopposed after the deadline for withdrawal of nomination ended today. The crucial Gujarat assembly polls are being seen as a test of Mr Gandhi's leadership ahead of the 2019 national election.
"A heartfelt thank you to everyone for the tremendous support and good wishes you have showered on me. It is an honour for me to work for the ideals of the Congress party and through it for our great country," he said in a tweet.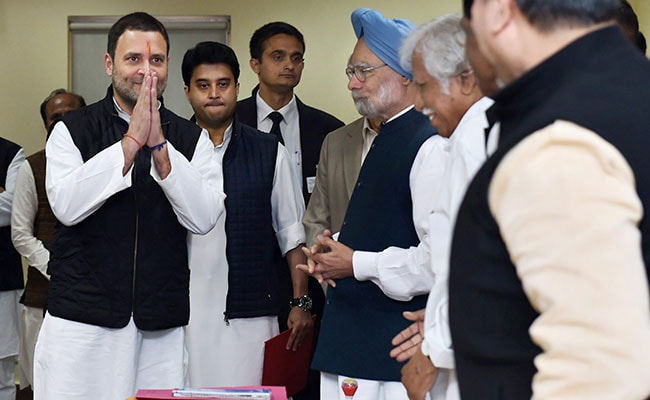 PM Modi has pitched the Gujarat battle as
one between development and dynasty
, repeatedly contrasting his own credentials as a self made leader from a modest background with Mr Gandhi's position of privilege in his party as a member of the Gandhi-Nehru family.
Mr Gandhi, 47
, will be the fifth person from the family to head the oldest political party.
The Congress asserts that Rahul Gandhi has earned the party's top post, dismissing allegations that the election was a sham. "He has shown his mettle in Gujarat. The entire BJP, including the Prime Minister himself and 80 ministers, are sitting there for a month but are still unable to counter him," said senior Congress Ghulam Nabi Azad.
Rahul Gandhi has led his party's aggressive bid to win Gujarat after 22 years of BJP rule, attacking PM Modi and the BJP over mega economic policies notes ban and GST. He has countered PM Modi's takedown by
accusing the Prime Minister him of focusing too much on him
and the Congress, rather than talking about development.
"But this election is not about PM Modi or me, about the BJP or the Congress. This is about Gujarat's future," he said on Sunday. On the Prime Minister's
allegation that Pakistan is meddling in the Gujarat elections
citing a meeting last week in Delhi between top Congress leaders, Pakistani officials and others, Mr Gandhi said at an election rally today, "Modi-
ji
is talking about Japan, Pakistan, Afghanistan. Modi-
ji
, this is Gujarat elections, talk a little bit about Gujarat too."
Mr Gandhi reportedly decided to put off his promotion because he did not want party leaders to get distracted from the immediate challenge in Gujarat - the state voted in the first phase on Saturday and the second and last phase will be held on Thursday. But he is seen as already haven taken charge, swiftly suspending senior leader Mani Shankar Aiyar after he called the
Prime Minister "Neech aadmi" last week
.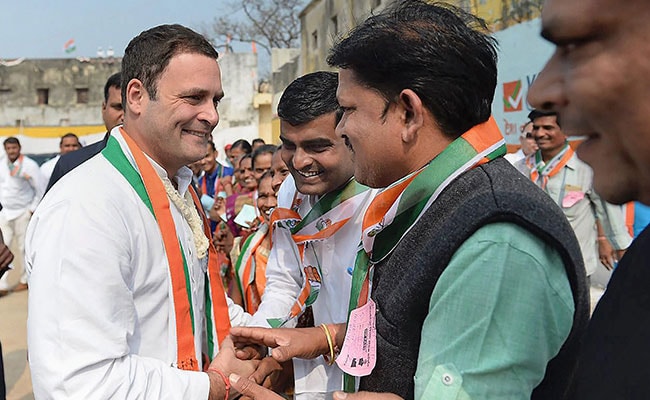 Rahul Gandhi was elevated as the
party's vice president in January 2013
and has since then, operated as the party's number 2. Mrs Gandhi, the party's longest-serving chief, has been keeping unwell in recent years and had scaled back her public engagements, pushing to the fore Rahul Gandhi.
Sonia Gandhi, 71, will continue to head the Congress Parliamentary Party.
This will ensure that she will lead some of the party's external dealings
with allies and other opposition parties, including on floor strategy in Parliament.
Mr Gandhi's takeover is expected to effect a
generational shift in the Congress
when he gets down to naming his core team, though he is expected to hand key tasks and advisory roles to party seniors, called the "old guard" to draw on their experience.
Get Breaking news, live coverage, and Latest News from India and around the world on NDTV.com. Catch all the Live TV action on NDTV 24x7 and NDTV India. Like us on Facebook or follow us on Twitter and Instagram for latest news and live news updates.