Highlights
'Rahul Gandhi is a darling of the Congress,' Dr Manmohan Singh said
Rahul Gandhi signed nomination papers at Congress headquarters
Sonia Gandhi, Dr Manmohan Singh, other Congress leaders were proposers
New Delhi:
Rahul Gandhi is set to be Congress president
in place of his mother Sonia Gandhi, elected unopposed after the last day for filing nominations passed today without any challenger emerging. An official announcement is expected tomorrow as the party is "completing all processes", sources said.
Mr Gandhi, who has been the Congress' vice-president for almost five years, filed nomination papers at the party's 24 Akbar Road headquarters in Delhi in an elaborate process as the party sought to emphasise that he is being democratically elected amid allegations by the BJP of dynastic politics. Outgoing Congress chief Sonia Gandhi was the first to nominate her son, though she signed the papers not at the party office but at her home next door. Sonia Gandhi has been the party's longest serving president, having led the Congress for 19 years since 1998.
A total 89 nominations were filed for Mr Gandhi since Monday morning by various Congress leaders and workers from across the country. The 47-year-old first met former Prime Minister Manmohan Singh and former President Pranab Mukherjee, to seek their blessings, party sources said, and then went to the party office, where he was seen hugging veteran Congress leaders Sheila Dikshit and Mohsina Kidwai.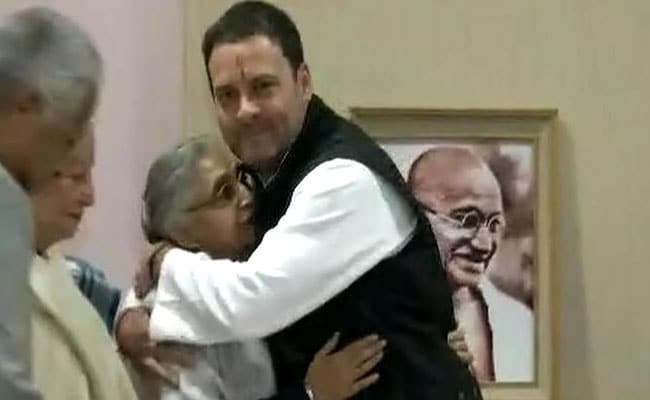 "
Rahul Gandhi is a darling of the Congress
and he will carry forward the great traditions of the party," said Dr Manmohan Singh.
Among those who signed papers to propose Mr Gandhi as party chief was Punjab Chief Minister Amarinder Singh, earlier seen as having been opposed to Rahul Gandhi taking his mother's place to lead the party. "Rahul Gandhi has shown his worth. He's been outstanding in his performance. He will make a good PM" Mr Singh said and also added, "This is my 50th year. Elections have always happened. Why are other parties interfering?"
At an election rally in Gujarat, Prime Minister Narendra Modi took a swipe at Mr Gandhi. "
I congratulate the Congress on their 'Aurangzeb Raj
.' For us, the well-being of the people matters and 125 crore Indians are our high command," he said.
PM Modi said he was quoting Congress leader Mani Shankar Aiyar. "Mani Shankar Aiyar asked 'did elections happen during Mughal rule? After Jehangir, Shahjahan came, was any election held? After Shahjahan it was understood Aurangzeb will be the leader'. So the Congress accepts its a family party? We don't want this Aurangzeb rule," said the Prime Minister who has pitched the Gujarat elections as a battle between "
vikaswaad
(development) and
vanshwad
(dynasty).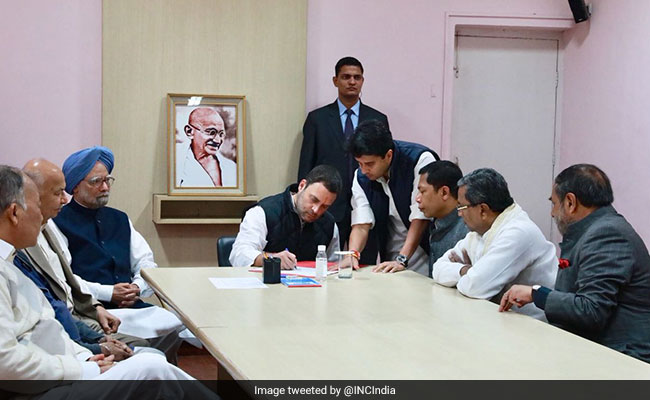 PM Modi and other top leaders of the BJP have repeatedly attacked the Congress over the Nehru-Gandhi family's control of the party, contrasting it with the BJP, where, they point out, people from the most modest origins have risen to the top, like the Prime Minister himself, who sold tea as a young boy in Gujarat.
Mr Aiyar has said he has been misquoted and that he had meant to "contrast the dynastic succession under the Mughals" with the "totally democratic process" of electing the Congress chief.
Congress leaders say the party's election process allows any member to contest the election for the top post. They said members had a chance since Friday to come forward to challenge Mr Gandhi, but no one had done so.
"This one false narrative that Lutyens liberals have cooked up is that you need the Parivaar (family) to fight the Sangh Parivaar. Why should there be a choice between secularism and dynasty? Can't I have non-dynastic secularism?" said Shehzad Poonawalla,
a Congress leader from Maharashtra who last week alleged
that the election to elect choose the party chief was "rigged." Mr Poonawalla had indicated he would have liked to contest the election, alleging that it is a sham since Rahul Gandhi enjoys an "unfair advantage".
He also wrote to Mr Gandhi demanding that he resign as party vice president, enter a televised debate and "be judged on merit" rather than on his surname.