New Delhi:
Highlights
Rahul Gandhi is in Italy to meet his 93-year-old grandmother
He is expected to take over as Congress chief in October
Congress has a plan set for 2019, says Jyotiraditya Scindia
Though Rahul Gandhi is missing as his Congress party leads the opposition's contest for the President of India, he is on top of it, said his partyman Jyotiraditya Scindia in an interview to NDTV. "You and I are both aware that he (Rahul) wasn't there in Delhi but, he is very much involved in the dialogue and selection process".
"I think in this age of technology, even if he is away, he is very much in touch," he said.
On Monday, the
BJP announced Ram Nath Kovind
, a Dalit leader and then Governor of Bihar, as its candidate for President. The opposition, led by Mr Gandhi's mother and Congress chief Sonia Gandhi, said it will run
former Speaker Meira Kumar
against him.
But by the time the opposition made up its mind about who to nominate, a key member, Nitish Kumar, had already announced his support for the BJP's choice, with sources close to him alleging that he was tired of the dithering of the Congress and the Left in picking a candidate. The sources, who asked not to be named, said that weeks ago, Mr Kumar told opposition leaders in Chennai at a gathering for DMK chief M Karunanidhi's 94th birthday that he would back Gopal Gandhi, former Bengal Governor and Mahatma Gandhi's grandson, who was then seen as the leading contender for the opposition's nomination.
Mr Gandhi announced on Twitter on June 13 that he was flying abroad to spend time with his Italian grandmother. As is often the case, his timing was baffling - not only was his party rallying others to combat the BJP for President, but farmer protests in BJP-governed states like Maharashtra and Madhya Pradesh were raging.
BJP spokesperson GVL Narasimha Rao said Mr Gandhi's exit was unsurprising, stating that "he visits India between holidays."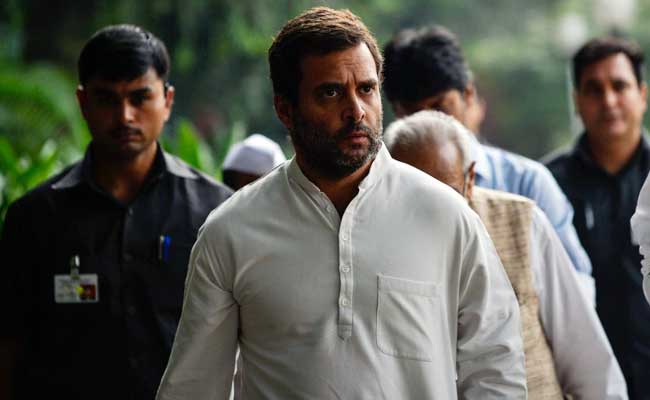 Mr Scindia refused to accept that Mr Gandhi's frequent absenteeism is hurting the Congress. "Don't forget that the UPA government was in power for 10 years under the leadership of Sonia Gandhi, Manmohan Singh and Rahul Gandhi, but it is they who transformed the lives of 65 crore farmers across this country."
Asked about the party's repeated political defeats since then, he said "everybody goes to crests and troughs. You've had a string of successes, and a string of debacles. I think it's important to go back to the drawing board. We have a plan for 2019, and we are working to that plan."
Mr Gandhi, who turned 47 this month, is expected to be promoted to his mother's job in October. Critics say that his current holiday demonstrates his lack of commitment to running the party, an allegation that the Congress, true to character, emphatically rejects.