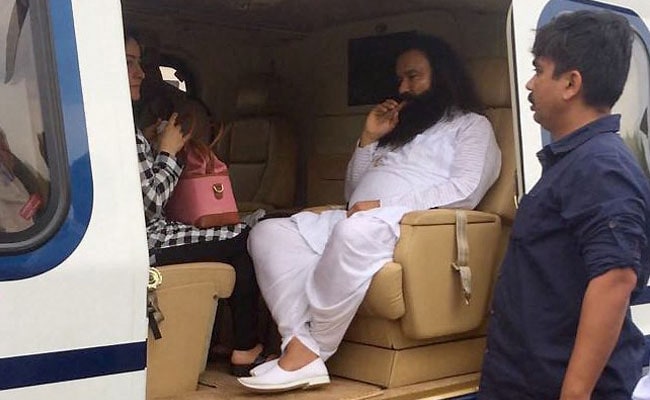 New Delhi:
When he was taken to a jail in Haryana's Rohtak after his conviction for rape, Gurmeet Ram Rahim Singh, the self-appointed spiritual leader with an extravagant lifestyle, kept chanting - "
Rabba
(God),
mera kya kasoor hai
(what is my fault)?"
A prisoner who spent
five days watching Ram Rahim in jail
before being let off on bail, also reveals that he never saw the Dera Sacha Sauda chief take a proper meal or anything except biscuits, tea and milk.
"I have gone to jail many times for social causes...but I have before never seen what I saw on August 24 in the Rohtak jail," said Swadesh Kirad, a fellow prisoner of Ram Rahim at the Sunaria jail.
Before 50-year-old Ram Rahim was brought in a special government chopper to the prison, officials imposed many restrictions on other prisoners. "Everyone was confined in their cells, no one was allowed to make calls and visits were suspended...Shocking that those who were up for bail learnt that their case had been delayed by one month," said Kirad.
"For one prisoner, 1,500 prisoners suffered."
The Baba finally walked into the prison looking shattered and dejected. "All night, he kept muttering and could not sleep. A man used to such luxury and heaven can't possibly adjust in hell."
Kirad refuted reports of special treatment to the guru. "He was given two black
kambals
, one rug and a dodgy fan...He kept pacing and screaming - 'call my daughter Honeypreet, she will look after me and treat my back pain'."
Swadesh Kirad said when two days later, a judge sentenced him to 20 years in prison for raping two followers, Ram Rahim buckled, collapsed and shouted - "Hang me, I don't want to live anymore."
He also
sat on the floor and wept loudly
, refusing to leave the courtroom until he was led out by commandos.
Swadesh Kiran said the flashy and controversial Baba would have been attacked by fellow prisoners had he not been sequestered. "Prisoners were angry due to the
violence that caused so many deaths
. Had he not been kept separately, they would've attacked him."
Over 30 people died in violence by Dera followers after Ram Rahim was declared guilty by a court in Panchkula last week.