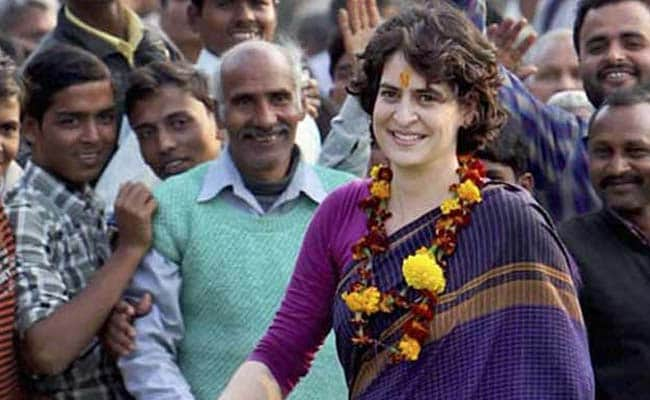 New Delhi:
Priyanka Gandhi Vadra has been appointed the Congress General Secretary For Uttar Pradesh (East), marking her entry into active politics, ahead of national elections due by May. The Congress, in a press release announced her appointment to the key post by her brother and party chief Rahul Gandhi. Priyanka Gandhi Vadra, 47, has always confined her role in politics to the constituencies of her brother Rahul and mother Sonia Gandhi, Amethi and Raebareli, till now. "We're fired up and ready to go," the Congress tweeted, congratulating her and party leaders KC Venugopal and Jyotiraditya Scindia for their new roles. After the big announcement, Rahul Gandhi said he had given her a challenge in Uttar Pradesh, a politically important state. "My sister, who is capable and hard-working, will work with me. I am personally very happy and excited. Jyotiraditya is also a very dynamic leader," he said.
Ms Gandhi Vadra's appointment was announced with a statement that also said Jyotiraditya Scindia will be in charge of western UP.
Here are the live updates on Priyanka Gandhi Vadra's appointment
Here are 10 facts to know about Priyanka Gandhi Vadra:
Born in 1972, Priyanka Gandhi Vadra is the daughter of former prime minister Rajiv Gandhi and UPA chairperson Sonia Gandhi. She is the sister of Congress president Rahul Gandhi.
She went to school in Delhi. She studied Psychology in graduation. She completed her masters in Buddhist studies in 2010.
Priyanka Gandhi Vadra is married to businessman Robert Vadra and has two children.
She is the grand-daughter of former prime minister Indira Gandhi. She is often compared with her grand-mother and is popular in the Nehru-Gandhi bastion-- Amethi and Raebareli
Priyanka Gandhi Vadra is seen as a natural in politics but she has confined herself to the constituencies of her brother Rahul and mother Sonia Gandhi - Amethi and Raebareli - till now.
In national and state elections since 2004, Priyanka Gandhi Vadra has campaigned exhaustively in Amethi and Raebareli.
After the party's dismal show in successive assembly election, workers were demanding a bigger role for Priyanka Gandhi Vadra in the Congress.
The Congress last year said Priyanka Gandhi Vadra was playing a "major role" in many ways within the party and would continue to do so, but asserted that this should not be seen as an indication that she would contest elections.
Priyanka Gandhi Vadra had said last year that she would not contest the Lok Sabha election from Raebareli. "There is no question of me contesting from Raebareli, my mother will be contesting from there," she had told NDTV.
Asked whether it was a precursor for Priyanka Gandhi Vadra contesting the national election, due by May, Rahul Gandhi said today: "It is up to Priyanka if she wants to. My main point is we won't play on the back foot - be it UP or Gujarat or anywhere."