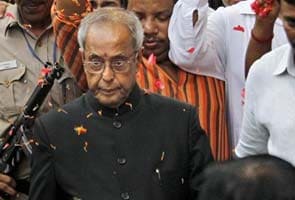 New Delhi:
Pranab Mukherjee
will be sworn in as the India's 13th President in New Delhi today. Chief Justice of India SH Kapadia will administer the oath of office to Mr Mukherjee at 11:30 am(
Special Feature: Meet the Presidents of India
)
Among those present at the swearing-in ceremony will be Vice President Hamid Ansari, Prime Minister Manmohan Singh, Lok Sabha Speaker Meira Kumar, UPA chairperson Sonia Gandhi, Union Ministers, Governors, and Chief Ministers.
The swearing-in ceremony will also have mega Bengal presence. Significant amongst those is West Bengal Chief Minister and Trinamool chief Mamata Banerjee. On Tuesday night, she landed in Delhi from Kolkata and drove straight to Mr Mukherjee's Talkatora Road house. Ms Banerjee, who had initially opposed Mr Mukherjee's nomination as the UPA candidate, congratulated him on being elected to the top post. Sources close to the West Bengal Chief Minister said Mr Mukherjee thanked her during their interaction.
Pradesh Congress chief Pradip Bhattacharya is already in New Delhi, and all Congress MPs from West Bengal are also likely to be present as Mr Mukherjee caps his over four-decade-old political career, that began in Bengal in the 1960s, with the highest constitutional office of the land. (
Read: Pranab Mukherjee's swearing-in will have mega Bengal presence
)
This morning, Mr Mukherjee will pay a visit to Raj Ghat in the morning before the swearing-in ceremony. Mr Mukherjee will be escorted by the President's Military Secretary to Rashtrapati Bhavan. From there President Pratibha Patil and Mr Mukherjee will leave in a ceremonial cavalcade for the swearing-in ceremony. The short route will be lined with soldiers. Ms Patil and Mr Mukherjee will be received by Ms Meira Kumar and Mr Ansari and escorted to the Central Hall. (
Special Feature: Pranab, from 'village boy' to President-elect
)
After he takes over, Mr Mukherjee will be given a 21-gun salute, address the gathering and then leave for Rashtrapati Bhavan with Ms Patil. As the Supreme Commander of India's armed forces, Mr Mukherjee will also be given a guard of honour in the forecourt of the Presidential palace.
The Indian Air Force will activate its air defence shield in and around the capital. Such a security cover is provided during events such as the Independence Day and Republic Day. Services at three of Delhi's Metro stations - Central Secretariat, Udyog Bhawan and Khan Market - will also be suspended between 9 am and 11 am due to security reasons. (
Read: Some Delhi Metro stations to close for swearing-in
)
Mr Mukherjee, who was the UPA's candidate for the presidential poll, had won the election quite comfortably with 69.31 per cent votes, very close to the 70 per cent that his poll managers had promised he would. In absolute numbers that meant 713,937 votes of the total 10,29,924 valid votes polled. This included a windfall from cross-voting by MLAs in BJP-ruled Karnataka. In comparison, the BJP's man, Purno Sangma, got the other 30.69 per cent and is still crying foul.
Up ahead lie tough tasks for Mr Mukherjee. There are more than 10 petitions sent by prisoners on death row to the President's office, asking for clemency. Among them, that of Afzal Guru, convicted for a terror attack on Parliament in 2001, a brazen assault in which 12 people were killed when Parliament was in session. The new President will have to decide what becomes of these mercy petitions, some of which have major political ramifications. For example, Balwant Singh Rajoana, who is in jail in Punjab for the assassination of former chief minister Beant Singh, is treated as a martyr and paid lavish tribute by the Sikh clergy.
The President is also likely to have a huge imprint on the political future of the country in 2014, when the general elections are expected to yield a hung Parliament. The President could then have a casting vote to decide who should come to power. He also has the right to dissolve a deeply-fractured Parliament, if that's what the results deliver.
(
With PTI Inputs
)