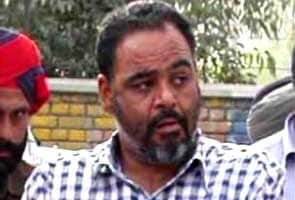 New Delhi:
Controversial liquor and real estate baron Ponty Chadha and his younger brother Hardeep have died in a shootout at their farmhouse in New Delhi. Sources have told NDTV that the two brothers had a meeting with each other around noon today over a property dispute. The meeting began peacefully but turned violent after a fresh dispute emerged.
News agency IANS quotes a police official saying Hardeep opened fire on Ponty Chadha, following which Mr Chadha's security guard shot Hardeep.
"As of now we have got the details that first Hardeep shot Ponty and immediately Ponty's gunmen shot Hardeep. The shooting was a result of a property dispute. The incident happened around 12.30 p.m.," a senior police said.
Sources say both the brothers were shot around their chest; there were 12 bullet wounds in Ponty Chadha's body; Hardeep had sustained four. A guard tried to intervene and was caught in the cross fire. He has sustained injuries.
Around 1 pm, a call was made to the police from inside the farmhouse, located in Mehrauli, about the incident.
A little over a month ago, on October 5, gun shots were also reported from Mr Chadha's house in Uttar Pradesh's Moradabad district.
55-year-old Ponty Chadha singularly ruled over the liquor business in Uttar Pradesh - he was granted the sole distributorship for liquor under the Mayawati regime. He allegedly bought liquor at low prices and subsequently sold them at exorbitant rates.
Pegged at $1.5 billion, his corporate assets - including liquor - also spanned across real estate, sugar, film production and exhibition.
Ponty Chadha, along with his brothers, managed the Chadha Group, which has been consolidated under the Wave brand. He ran a popular chain of multiplexes - under the Wave brand - in the National Capital Region. One of them at Noida, incidentally, is situated in the mall that was raided by Income Tax officials over alleged tax evasion.
Mr Chadha was known to be close to the Samajwadi Party but shifted loyalties to the Mayawati-led Bahujan Samaj Party regime. His business, incidentally, had flourished ever since.
Apart from the sway that he holds over the liquor business, Mr Chadha also allegedly benefited in the sugar industry. Three sugar mills were awarded to his Wave Industries which led to the state reportedly incurring losses to the tune of Rs. 124.70 crores.
In the real estate sector too, a massive, 4,500 acres of prime land was awarded to Wave Infratech that he owns for the Yamuna Expressway Project - a venture that is close to Mayawati's heart and has been mired in controversies over land acquisition.