Gandhinagar:
Highlights
PM addresses huge rally in Gandhinagar during Gujarat campaign
Congress and other parties involved in GST decisions, he said
GST welcomed by traders, Congress must stop lying, he said
Defending
the new national sales tax or GST
, Prime Minister Narendra Modi today said that "the decision to implement the reform was not of Prime Minister Modi alone." He said there were nearly 30 parties that were consulted and involved with the new tax, of whom he singled out one. "The Congress is an equal partner in GST decisions. They should not spread lies on GST," the Prime Minister said at a rally in Gujarat, his home state which he governed for over a decade.
The GST has been tagged
, along with the PM's shock decision to ban high-denomination notes a year ago, as a significant contributing factor to the economic slowdown. Top union ministers have said that the slowdown, based on the last quarter which registered a three-year-low of 5.7 per cent growth, is being exaggerated. The PM himself in
a lengthy defence of his economic record
said that "a handful of pessimists" are playing fast and loose with facts to misrepresent a blip in the economy.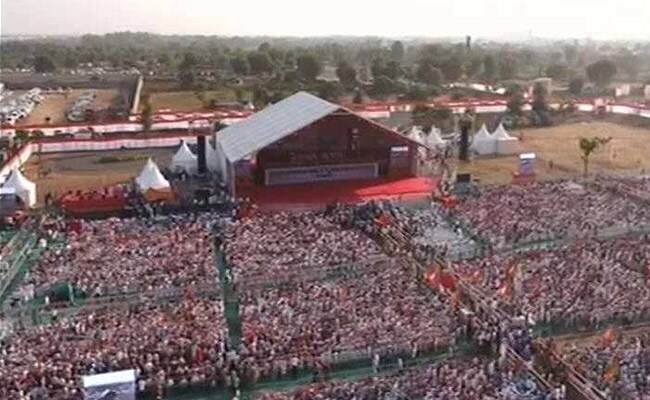 The government and the PM's party have said that short-term pain points caused by these structural reforms will be more than compensated for because GST and demonetisation will curb black or untaxed money and steadily expand the base of taxpayers.
The GST, which replaced a jumble of tariffs and levies imposed by the centre and states, was conceived of by the previous Congress-led government. The Congress and other opposition parties have attacked Mr Modi's administration for a rush job in introducing the GST on July 1. Problems included a glitched GST Network, the vast IT back-end system meant to crunch up to 5 billion invoices a month, and complicated tax slabs.
Earlier this month, Finance Minister Arun Jaitley met with his counterparts from states - together, they comprise the GST Council -and revised rates on a range of items. Among them, those that are crucial to traders in Gujarat: the khakra snack, for example, and man-made textile yarn. Critics pointed out these concessions were intended to ensure the BJP was not penalised by small and medium sized businesses in Gujarat, which must vote before December 18.
"We took feedback and we made changes," Mr Modi said to
a huge rally in Gandhinagar
, the capital of Gujarat. "All parties and states were involved" in deciding the main features of the GST, he said.