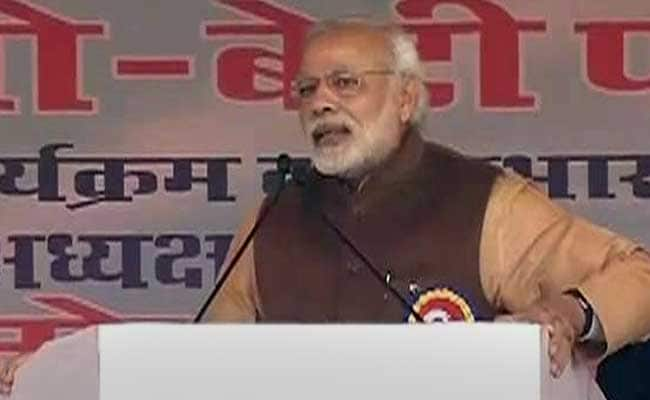 Panipat, Haryana:
Prime Minister Narendra Modi launched the '
Beti Bachao, Beti Padhao Yojana
' (Save the girl child, educate the girl child scheme) in Panipat on Thursday. Maneka Gandhi and Madhuri Dixit were also present at the launch, and addressed the attendees.
Here are the highlights of Madhuri Dixit and Maneka Gandhi's speech at the launch:
I am very happy to be here. I am very happy to see so many women and children here: Madhuri Dixit at 'Beti Bachao Beti Padhao' programme.
We have reached the moon and mars but sadly, still some view the daughter as a burden: Madhuri Dixit
I am proud that in their first year in office, the Government started this initiative. I have immense expectations from this: Madhuri Dixit
I thank PM Modi that he took up this issue with seriousness & talked about importance of 'Beti Bachao Beti Padhao': Union Minister Maneka Gandhi
The birth of a girl child must be celebrated: Union Minister Maneka Gandhi
Here are the highlights of PM Modi's speech at the launch:
As a society we all have a responsibility. We have to be aware.
I am glad Maneka ji and her team selected Haryana. And I congratulate the CM to accept the challenge. The message is for entire nation.
If we don't realise the crisis brought by female foeticide, our coming generations will face a major problem.

People want educated daughters-in-law but think several times before educating their daughters. How can this go on.
We do not have the right to kill the girl child.
I appeal to doctors not to carry out sex determination tests.
India's PM is standing in front of you as a beggar. I have come here to beg for the life of the girl child.

The thought that only a son will take care of you during your old age is incorrect.
Let's not look back and shift blame, lets wake up and work together to get rid of this scourge.

Beta Beti Ek Samaan...this should be our Mantra.
Madhuri ji is here with. Her mother is unwell but she is in Panipat. She is here with a message to save the girl child.