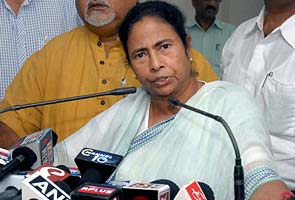 Kolkata:
West Bengal chief minister Mamata Banerjee told a conclave of realtors, builders and urban infrastructure developers in Kolkata today, "My heart is with you but my hands are tied."
Blaming the Left Front rule of 34 years for the state's financial doldrums, she stuck to her guns about not doing away with the Urban Land Ceiling Act that limits the amount of land an entity can hold in urban centres in West Bengal.
Ms Banerjee said, due to the state's impoverishment, Bengal could not compete with Gujarat, Mumbai, Delhi and Chennai today on many fronts. But, she pointed out, those states and cities had run out of options and Bengal was the place offering opportunities to developers. "So, please invest in Bengal," she urged.
Earlier, in the event titled 'Bengal Builds', Mr Lalit Kumar Jain, President of the Confederation of Real Estate Developers Association of India (CREDAI) had cited three major problems about investing in Bengal - the tax structure, administrative delays in clearing proposals and the Urban Land Ceiling Act.
This Act has been cited by may industries as the biggest stumbling block for development, along with the government's hands off policy on land acquisition. Mamata Banerjee did not address these issues raised directly.
On the issue of administrative delays in clearing proposals, Ms Banerjee announced the formation of a committee that would coordinate with the government for faster clearances. She also asked investors to mail her directly with their problems.