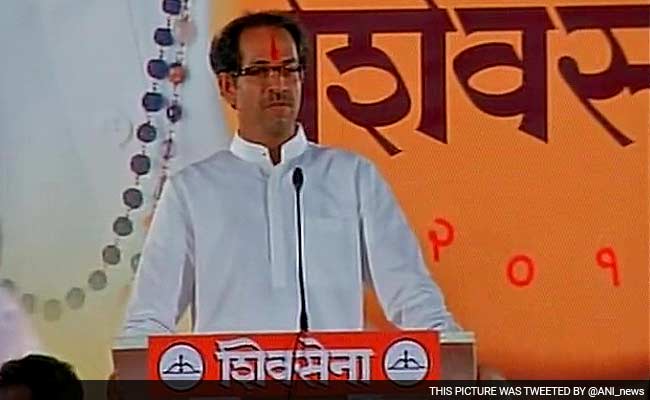 Mumbai:
Seizing on Pakistan government's call to the international community to take note of Shiv Sena's activities, the party has prided itself saying the neighbouring country's stand firmly vindicated its patriotism even though it would have brought cheers to its critics.
In a dig at those who criticised it, including the ally BJP, over its aggressive position against cultural and sporting ties with Pakistan, Sena said those who have opposed its stand would be happy with Pakistan's statement.
"Whatever is happening in Pakistan in relation to the Shiv Sena is a matter of pride for us. Pakistan government's stand against us has put a stamp of approval on our patriotism... We consider it as our good fortune that Pakistan considers us as their enemy and thereby has crowned us with respect and glory," said an editorial in Sena mouthpiece 'Saamana' today.
The Sena said it does not regret its decision to oppose the concert planned by Ghazal legend Ghulam Ali, former Pakistani Foreign Minister Khurshid Kasuri's book launch and Pakistani cricket players' tour in Mumbai.
"Pakistan is a parasite born out of the Indian soil, which they have reddened with the blood of innocents. Pakistan Peoples Party (PPP) had demanded that Shiv Sena be declared a terrorist organisation. Now, the Nawaz Sharif government has asked the global community to take notice of us," said the editorial.
"Those who feel that terrorist Ajmal Kasab and the Parliament attackers were sent to India to do 'Satyanarayan Puja,' (a ritual for wellbeing) will be very happy with Pakistan's stand on the Sena. Crackers will be burst in Pakistan seeing their happiness," it said.
Pakistan had on Friday asked the international community to take note of the "terrorist" activities of Shiv Sena which smeared the face of Sudheendra Kulkarni with black paint to protest launch of Mr Kasuri's book organised by him.
"I agree with you that the international community should take note of the terrorist activities of this organisation. We have repeatedly expressed our concern on its activities," said Foreign Office spokesperson, Qazi Khalilullah during his weekly briefing while responding to a question about any plans to get Sena declared a terrorist organisation globally.