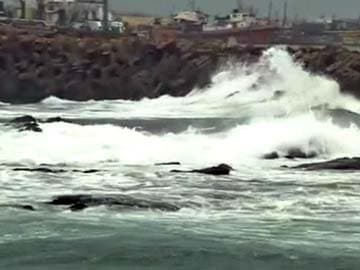 Hyderabad:
More than 1.5 lakh people have been evacuated from vulnerable areas of five coastal districts of Andhra Pradesh which are expected to be hit by a rainfall of up to 45 cm in the next two days under the impact of very severe cyclonic storm 'Hudhud' that is due to have a landfall near Visakhapatnam around today afternoon.
The people were evacuated from vulnerable areas in Srikakulam, Vizianagaram, Visakhapatnam, East Godavari and West Godavari districts to safer places by this evening even as National Disaster Response Force (NDRF) and Armed Forces teams, along with the state government machinery, are ready to carry out further evacuation as 'Hudhud' nears its landfall.
Visakhapatnam district is expected to bear the brunt with rainfall ranging from 400 mm to 450 mm, according to Chief Minister N Chandrababu Naidu.
"Apart from Visakhapatnam, Srikakulam, Vizianagaram and East Godavari districts will also receive very heavy rainfall under the impact of Hudhud," Mr Naidu told reporters tonight after a video-conference with Collectors of the coastal districts with whom he reviewed the preparedness and ongoing rescue operations.
"We are monitoring the situation on a real-time basis using satellite imagery, remote sensing and space technology.
This is the first time we are using technology in a big way to assess the situation and take all steps to prevent loss of life (human and cattle) and ensure minimal damage to properties, if any. We are also using 'crowd-sourcing' in rescue and relief operations," Mr Naidu said.
Mr Naidu also appealed to people in cyclone-prone areas to help government with the images of destruction.
"I request the people in cyclone-prone areas to help us with images of destruction, if any, so that it will be useful for the administration to collect real-time data. We will acknowledge the data obtained from people through crowd-sourcing and recognise them," the chief minister said.
He said that the Centre was also closely monitoring the situation. "I spoke to the Union Cabinet Secretary and also Indian Space Research Organisation (ISRO) Chairman Radhakrishnan," Mr Naidu added.