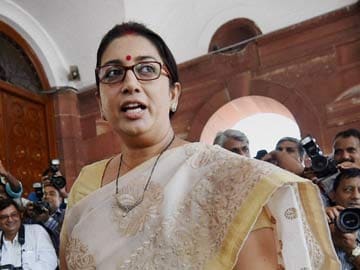 New Delhi:
After a controversy over her statement on a "degree from Yale" Education Minister Smriti Irani has said that her statement has been "misconstrued" but has failed to stop the buzz on social media.
"Unfortunate that the statement re my participation in a leadership programme and certificate thereafter was misconstrued," she tweeted on Monday.
The youngest minister in the Narendra Modi government has had to defend her academic background ever since she took over as Education Minister, especially after contradictory declarations in her election affidavits in 2004 and 2014. The BJP leader said she should be judged from what she delivers as a minister.
She ended up giving more fodder to her critics after saying at an event on Saturday, "In that kitty of mine where people call me 'anpadh' (illiterate) I do have a degree from Yale University as well which I can bring out and show how Yale celebrated my leadership capacities."
An official spokesperson of her ministry clarified on Monday night that Ms Irani got a "certificate" for her participation in a Yale University program.
The 38-year-old was among 11 MPs who participated in a six-day leadership programme at the Yale campus in New Haven, Connecticut, in June last year. The course was introduced eight years ago, and more than 80 MPs from India have participated since.
A clarification has given Ms Irani no respite from the twitter storm after she described her certificate as a "degree".
The "six-day degree" is one of the top trending topics on the micro-blogging site.
"Smriti Irani presses F1 on her keyboard. Writes 'F1 Driver' in her bio," tweeted Shailendra Ranawat.
A post from "God" retweeted several times said, "Congratulations to Smriti Irani on Graduating from Yale in the exact same amount of time it took Me to Create the World."
Many have also spoken out in her support.
"Folks ranting abt Smriti Irani's educational background. Our last PM was quite educated. How did that work out for ya?" tweeted Niks using the viral hashtag 'YoSmritiSoCertified.