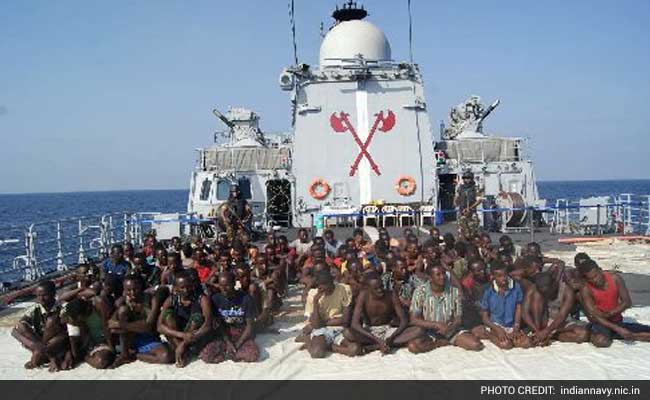 New Delhi:
Pirates of the Arabian Sea versus 52 warships of the Indian Navy -- it took only four years to clean up the waters. But the "high risk" tag of the entire area between Africa and Indian waters took considerably longer to shed - three more years. The clean chit came last week.
The tag was proving no less expensive than piracy. Merchant ships had to sail hugging the Indian coast - spending much more on fuel and insurance -- for safety. Chinese vessels came too close for comfort. And it cast doubt on the capabilities of the Indian Navy to ensure the safety of its waters.
Now, the global shipping industry will save a whopping Rs 23,000 crore a year.
Starting from the Gulf of Aden, piracy became rampant in Arabian sea around 2007 with the political instability Somalia.
But as they increased their reach to the East Arabian Sea, the entire West coast including the Exclusive Economic Zone of India, an area of the sea which can only be used by India for economic reasons, was declared a high risk area.
The navy started its anti-piracy operation in 2008 - deploying warships from across the Gulf of Aden, Maldives and Seychelles Islands all the way to the west coast of India. Floating armouries appeared off the Indian coast and security personnel were stationed on board trade ships.
"But although the last piracy attempt was in 2012, the global community had refused to realign the High Risk Area tag," said a senior Defence Ministry official. "Plus, including the entire west coast within the High Risk Area also cast a doubt on the capabilities of the Indian Navy."
It also resulted in episodes like the shooting of two Indian fishermen by Italian marines. The marines, who were stationed on an oil tanker as part of its security, had opened fire on the fishing boat by mistake.
After 2012, India sought for a review of the spread of the High Risk Area with the the European Union Chair of the Contact Group of Piracy off the Coast of Somalia. The clearance came last week -- after three years' of lobbying and meetings, said defence ministry officials.
"Now, some of India's maritime security concerns - like floating armouries and proliferation of private security -- are likely to be addressed," said Indian Navy spokesperson Captain D K Sharma. "Also, Indian ship-owners are likely to benefit significantly on account of savings on insurance and associated operating costs."