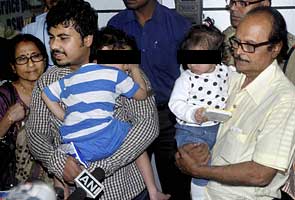 Kolkata:
In a new twist, the custody of two siblings - brought from Norway after a legal and diplomatic fight last year - was passed on to their uncle today, hours after the Burdwan policemen handed the children over to their mother.
Earlier in the day, the Burdwan police officials gave custody of Abhigyan and Aishwarya to their mother Sagarika Bhattacharya following a directive from the district child welfare committee. But within hours, the Calcutta High Court, after hearing an appeal by their uncle, Arunabhas Bhattacharya, returned the children to his custody.
The Calcutta High Court today directed that the order of a Norway court, which had ruled that the custody of two children be given to their uncle, be upheld.
The plea of the mother, who has approached the high court for the custody of her children, would be heard next Monday.
Abhigyan and Aishwarya, aged three and one, were taken under emergency foster care in May 2011 by the Norwegian child welfare agency, on grounds of alleged negligence by their parents - then residing in Norway.
The issue led to a furore in India with the Indian government activating the diplomatic channels. After the Indian government's intervention, a Norway court ordered that the children be placed in the custody of their uncle following which they were brought to their home in West Bengal's Burdwan district in April last year.
Sagarika, who now has an estranged relationship with her husband Anurup, then moved the child welfare committee which in November last year gave custody of the children to their mother. The child panel, responding to the petition, said the interests of the children would be well preserved with their mother, who had also undergone medical tests in Mumbai to prove that she was mentally sound.
In pursuance of the order, the Burdwan police accompanied the child panel members to Arunabhas's house in Kulti - about 250 km from Kolkata - and took the children to hand them over to Sagarika. But hours later, the high court directed upholding of the order of the Norway court.