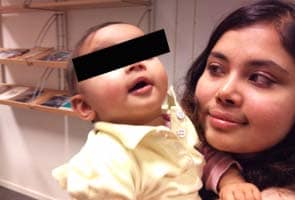 Kolkata:
Sagarika Bhattacharya, the woman whose children were removed from her custody by child welfare officials in Norway will get to keep them with her for now, a court in Kolkata has ruled. Till this week, the children had been living with their father's younger brother in West Bengal, as directed by a Norwegian court.
A judge at the Calcutta High Court today said that till he delivers his verdict on their custody, the children will stay with their mother; their uncle has visitation rights. (
Watch: Finally I got jutice, says mother
)
The story of who should bring up Abhigyan and Aishwarya was an international headline last year after Norwegian officials declared their parents to be negligent. Then, after a lengthy legal battle, buttressed by diplomatic intervention, a court in Norway decided they could return home but in the care of their father's younger brother, a dentist named Arunabhash.
Sagarika returned to Bengal, estranged from her husband, and petitioned the Child Welfare Committee in Burdwan to have her children transferred to her care. The panel says she has cleared psychological tests that establish she is a sound and fit parent.
Because her in-laws and the local police ignored orders to give the children to her, Sagarika filed a case in the Calcutta High Court last month. Today, the court decided that the children will stay with her till it delivers a final verdict.
This week has been one of considerable drama for the family. On Tuesday, Sagarika was told by the police that she could collect her children. But while she was on her way home with her son and daughter, the judge at the High Court was upset by the police's intervention and ordered that the children be returned to their uncle immediately. By this time, Sagarika was more than halfway to Kolkata with the children, so they stayed with her.