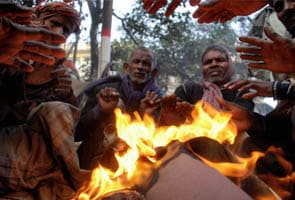 New Delhi:
Winter woes were compounded in north India as the intense cold wave kept people numb with mercury dipping further in the region on Wednesday and resulting in the death of 12 more people.
Uttar Pradesh accounted for the 12 deaths -- three in Barabanki, seven in Pratapgarh and one each in Jaunpur and Deoria, officials said.
The death toll in the state now stands at 47. With a minimum temperature of 2.6 deg C, Churk was the coldest place in Uttar Pradesh. Kanpur shivered at 3.5 deg C, which was five degree below normal and Banda recorded a minimum of 3.4 deg C, six notches below normal.
The national Capital remained under the grip of a cold wave with the mercury dropping to 4.2 deg C, three degrees below normal, early on Wednesday morning while the maximum was 13 degrees, eight degrees below normal.
The Delhi government on Wednesday ordered closure of all schools in the capital till January 10.
The cold wave intensified further in Kashmir division, including Ladakh region, as the minimum temperature across the state dipped several degrees further, with Leh town freezing at minus 23 deg C.
Leh recorded the coldest temperature in Kashmir division at minus 23 deg C, which was 2.8 degrees lower than the minimum temperature recorded on Tuesday.
The maximum temperature recorded in Leh was three degrees below the freezing point.
In Srinagar city, the minimum temperature dipped by 1.3 deg C to settle at minus 5.4 deg C.
Kargil town witnessed an extremely cold night as the minimum temperature remained minus 18 deg C for the second consecutive night.
In Kashmir Valley, the tourist resort of Pahalgam recorded a temperature of minus 11.6 deg C which was nearly four degrees lower compared to Tuesday's minimum of minus 7.7 deg C.
Other parts of the Valley also witnessed the minimum temperature falling by several degrees.
Gulmarg skiing resort in north Kashmir recorded a minimum temperature of minus 9.5 deg C, which was slightly lower than Tuesday.
Qazigund, the gateway town to the Valley, was freezing at minus 10.6 deg C, two degrees lower than Tuesday, while Kokernag town in south Kashmir's Anantnag district witnessed a night temperature of minus 8.6 deg C.
Several places in Punjab and Haryana were under a thick fog cover that hit movement of flights to and from Chandigarh and affected vehicular traffic and trains in large parts of the two states.
Chandigarh recorded its coldest day ever on Wednesday, making it colder than Srinagar and Shimla, as fog and cold wave tightened its grip across Punjab and Haryana.
Icy wind sent the maximum temperature in Chandigarh plummeting to 7.4 deg C, down by a record 14 degrees below normal.
"Never before in Chandigarh's history had there been such a cold day. Earlier on January 12, 2003, the maximum here recorded was 8 deg C," a MeT official said.
The city was colder than Srinagar in Kashmir which on Wednesday recorded a maximum temperature of 7.5 deg C and Shimla at high of 12.9 deg C, the MeT said.
The minimum recorded at Chandigarh was 5 deg C. Severe cold waves continued to sweep Rajasthan while thick fog engulfed the region following which several flights were delayed.
Mount Abu recorded a night temperature of minus 4 deg C, while Bikaner recorded the lowest in plain at 1.2 deg C.
Pilani recorded a low of 1.5 deg C, followed by Jhalawar at 2 deg C, Churu at 2.2 deg C and Sriganganagar at 2.4 deg C