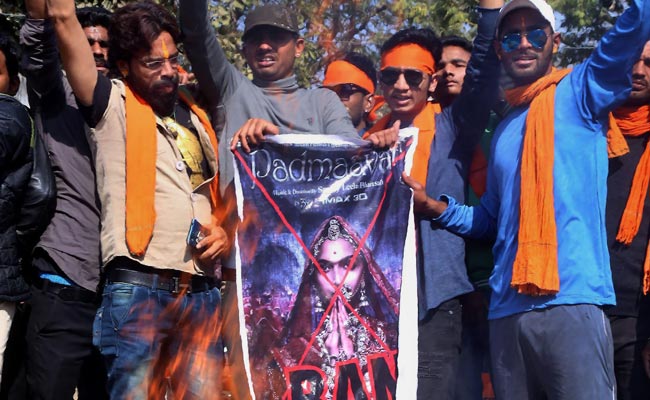 Mumbai:
As violent protests against the release of film "
Padmaavat
" burgeoned, the Multiplex Association of India said today its members would not screen the period drama in Rajasthan, Gujarat, Madhya Pradesh and Goa.
The decision of the association, which represents about 75 per cent of the multiplex owners in the country, came as
Rajput outfits and other fringe elements vandalised malls, burned vehicles
, and issued open threats to theatre owners and public in their bid to stall its release, claiming distortion of history.
The film is slated for release tomorrow.
"We have decided not to play the film in four states Rajasthan, Gujarat, MP and Goa -- as the local management has told us that the law and order situation is not conducive," Deepak Asher, president of the association, told PTI.
"For us safety of patrons is important. Depending on the scenario, we will see if the atmosphere is safe, then we will play it (in these four states). Things could change (but) at the moment we are looking at safety of people," he added.
Even in the states where the film would be released, private security guards would be deployed outside cinema halls besides police, he said.
The association members together account for for 1,8002,000 screens across the country.
The Sanjay Leela Bhansali-directed "
Padmaavat
" is based on the saga of a 13th century battle between Maharaja Ratan Singh of Mewar and Sultan Alauddin Khilji.
A top official in Mumbai said police will provide adequate security to theatres wherever it is required.
"We are releasing the film almost everywhere, except few places where there is disturbance. We have 488 screens across India. In a few places the film won't be shown due to possible threat (of violence)," said Rajender Singh, Chief Programing Officer, Inox.
He said Inox has been assured of protection by the local police stations at various places and that it has also stepped up in-house security. Singh said though advance booking was very encouraging, it was difficult to say how many people would turn up to see the film.
Nitin Datar, executive committee member, Cinema Owners and Exhibitors Association of India, said the organisation has asked its member exhibitors to contact the nearest police stations and seek protection.
"Police officials called us to find out where the film is releasing. They have assured police protection. Ultimately, it is the individual choice of the exhibitor (to screen or not), taking into consideration the risk, the damage that can be caused to the property. But more than that, exhibitors are worried about the security of patrons," Datar said.
The association, with members in Gujarat, Goa, Maharashtra and parts of Karnataka, has over 500 theatres affiliated to it.
Manoj Desai, Executive Director of Gaiety, Galaxy and Maratha Mandir single-screen cinemas in Mumbai, said they have yet to get any security.
"We have not received any security yet, but we might get it till tomorrow morning. We are still waiting. It is the job of the authorities to provide us adequate security. If something happens to my property, I am even willing to sit in front of the CM's house (to seek justice)," Desai said.
He said while 70 per cent of seats in the three cinema halls were booked, families were a little scared to watch the film. "There is excitement about the film. I hope law and order prevails and the film has a smooth release," he said.
An exhibitor from Maharashtra, who did not wish to be named, said his chain of theatres is ready for the release.
"We will abide by the Supreme Court's order and screen the film as we have got a fantastic advance booking. We have faith in the state government and the police," he said.
Mr Bhansali and the film's lead actor Deepika Padukone have received death threats over the film and security has been deployed to their residences.